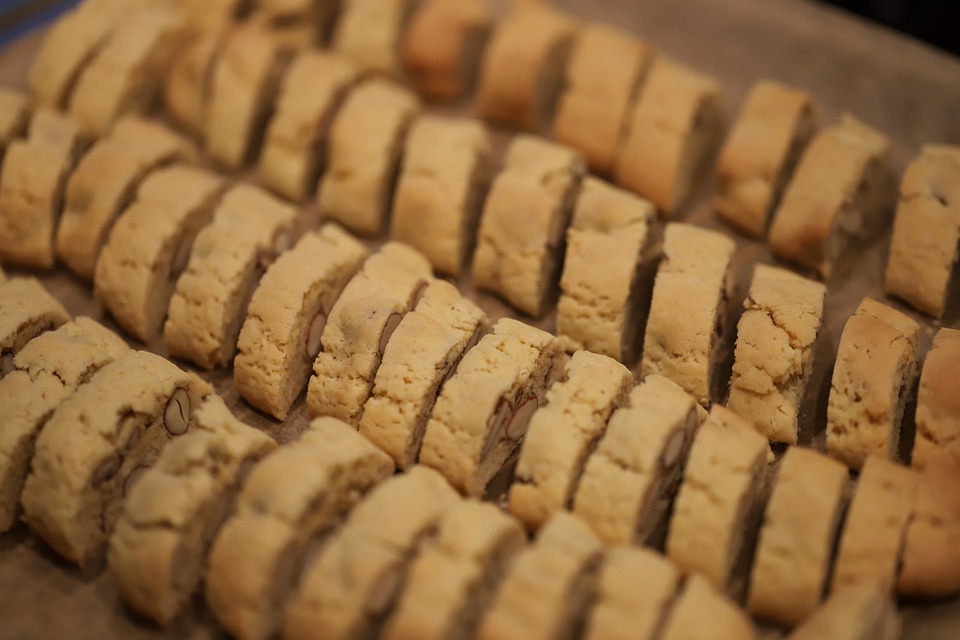 Ingredients
1/4 cup finely chopped almonds
1/2 cup sugar
2 tablespoons margarine
4 egg whites, lightly beaten
2 teaspoons almond extract
2 cups all-purpose flour
2 teaspoons baking powder
1/4 teaspoon salt
Directions
Preheat oven to 375 degree F. Place almonds in a small baking pan. Bake 7 to 8 minutes until golden brown (watch carefully to avoid burning). Set aside.
Beat sugar and margarine in medium bowl with electric mixer until smooth. Add egg whites and almond extract; mix well. Combine flour, baking powder and salt in large bowl; mix well. Stir egg white mixture and almonds into flour mixture until well blended.
Spray two 9x5-inch loaf pans with non-stick cooking spray. Evenly divide dough between prepared pans. Spread dough evenly over bottoms of pans with wet fingertips. Bake 15 minutes or until knife inserted into centers comes out clean.
Remove from oven and turn onto cutting board. As soon as loaves are cool enough to handle, cut each into 16 (1/2-inch thick) slices. Place slices on baking sheets covered with parchment paper or sprayed with cooking spray. Bake 5 minutes; turn over. Bake 5 minutes more or until golden brown. Serve warm or cool completely and store in airtight container.

Recipe Yield: Servings: 32
Nutritional Information Per Serving:
Calories: 56
Fat: 1 grams
Protein: 1 grams
Carbohydrates: 9 grams

Content Continues Below ⤵ ↷
Diabetic Exchanges
1/2 Starch/Bread; 1/2 Fat