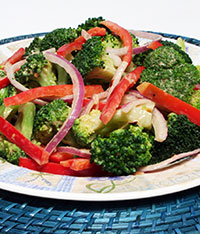 This recipe takes a tip from Thai cuisine and the peanut dressing is a healthy substitute for  high-calorie, high-fat cheese sauces (or butter) that many use to top their broccoli. It is a great tasting topping for this cool salad, and the red onion and red bell pepper provide added nutrition, flavor and color.
Ingredients
4 cups broccoli florets
1 medium red bell pepper, cut in thin strips, about 1 cup
1/3 cup red onion, cut in thin crescents
3 Tbsp. smooth peanut butter, natural and unsweetened
2 tsp. roasted sesame oil
1-2 Tbsp. rice vinegar
2 Tbsp. fresh lime juice
1 Tbsp. reduced-sodium soy sauce
2 tsp. agave syrup
Pinch of salt
Ground black pepper
Red pepper flakes, optional
Directions
Place steamer basket in large saucepan. Add water to depth of 1 inch. Cover and bring the water to boil. Add broccoli, cover and steam over medium-high heat until tender-crisp, 3 minutes. Transfer broccoli to mixing bowl. Add bell pepper and onion.
In small bowl, combine peanut butter and sesame oil. Add vinegar, lime juice, soy sauce and agave and whisk until dressing is smooth. Season dressing to taste with salt and pepper. Pour dressing over vegetables and use fork to toss until salad is well coated. Sprinkle on red pepper flakes, if using, and mix to combine. Cover, and refrigerate the salad for 1 hour before serving, or up to 24 hours. Toss well before serving.

Recipe Yield: Makes 4 servings
Content Continues Below ⤵ ↷
Nutritional Information Per Serving:
Calories: 146
Fat: 9 grams
Saturated Fat: 2 grams
Fiber: 4 grams
Sodium: 255 milligrams
Protein: 6 grams
Carbohydrates: 17 grams