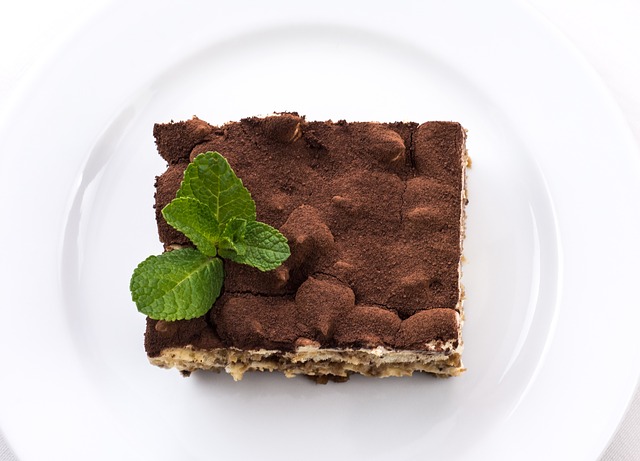 Ingredients

1-1/2 cups 5% ricotta cheese
1/2 cup light cream cheese
1/2 cup granulated sugar
3 tablespoons cocoa
1 egg yolk
1 teaspoon vanilla
3 egg whites
1/3 cup granulated sugar
3/4 strong, prepared coffee
3 tablespoon chocolate or coffee-flavored liqueur
16 lady finger cookies

Directions

Spray a 9-inch square baking dish with vegetable spray.
In a food processor, combine ricotta cheese, cream cheese, 1/2 cup sugar, cocoa, egg yolk and vanilla until smooth; transfer to a bowl.
In bowl, beat egg whites until soft peaks form. Gradually add 1/3 cup sugar and continue to beat until stiff peaks form. Gently fold the whites into the ricotta mixture.
Combine coffee and liqueur in a small bowl.
Put half of lady fingers in bottom of dish. Sprinkle with half of coffee-liqueur mixture. Spread half of ricotta mixture on top. Repeat layers. Cover and chill for at least 3 hours, or overnight.

Recipe Yield: Makes: 16 Servings
Nutritional Information Per Serving:
Calories: 150
Fat: 5 grams
Sodium: 102 milligrams
Cholesterol: 66 milligrams
Protein: 6 grams
Carbohydrates: 21 grams

Content Continues Below ⤵ ↷
Diabetic Exchanges
1/2 Starch, 1 Other Carbohydrate, 1/2 Lean Meat, 1/2 Fat

Source: The Best Diabetes Cookbook
Book Title: The Best Diabetes Cookbook