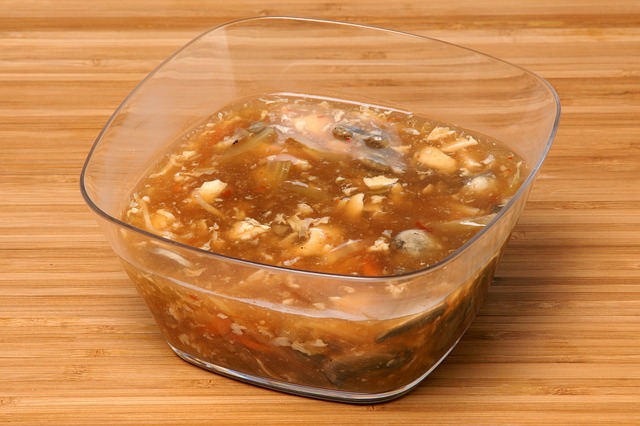 Ingredients

2 cans (14 ounces each) reduced-sodium chicken broth, divided
2 tablespoons cornstarch
1/2 pound firm tofu, cut into small chunks
1/4 pound sliced fresh mushrooms
2 tablespoons light soy sauce
3 tablespoons white vinegar
1 teaspoon ground ginger
1 teaspoon black pepper
1 egg, lightly beaten
1 cup fresh bean sprouts
1/2 teaspoon sesame oil

Directions

In a small bowl, combine 1/4 cup chicken broth and the cornstarch; mix well and set aside.
In a soup pot, combine the remaining chicken broth, the tofu, mushrooms, soy sauce, vinegar, ginger and pepper; mix well and bring to a boil over high heat. Reduce the heat to low; stir in the cornstarch mixture until thickened.
Slowy stir in the beaten egg to form egg strands.
Add the bean sprouts and simmer for 1 to 2 minutes, or until heated through, stirring occasionally. Add the sesame oil; mix well and serve.

Recipe Yield: Yield: 5 servings
Nutritional Information Per Serving:
Calories: 89
Fat: 3 grams
Fiber: 1 grams
Sodium: 644 milligrams
Cholesterol: 43 milligrams
Protein: 8 grams
Carbohydrates: 8 grams
Sugars: 3 grams

Content Continues Below ⤵ ↷
Diabetic Exchanges
1/2 Carbohydrate, 1 Lean Meat

Source: Mr. Food Every Day's a Holiday Diabetic Cookbook
Book Title: Mr. Food Every Day's a Holiday Diabetic Cookbook