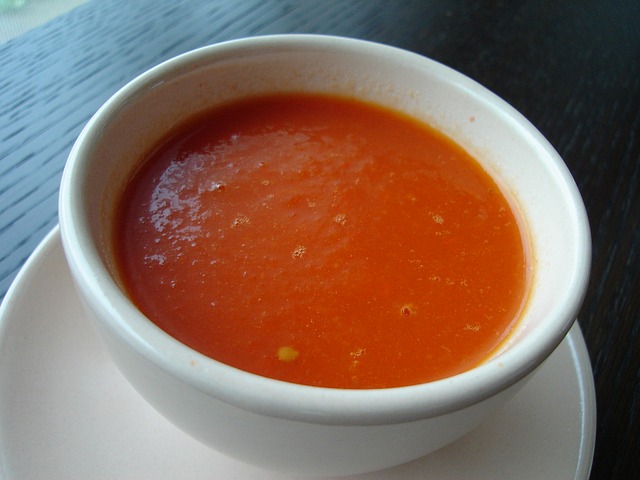 Ingredients
1 Tbsp. butter
1 onion, finely chopped
2 large garlic cloves, chopped
1 can (28-oz.) diced tomatoes
1 Tbsp. sugar
1 tsp. dried thyme
1/8 tsp. ground mace
Pinch of cayenne pepper
1/2 cup fat-free half-and-half cream
Salt and freshly ground black pepper
3 Tbsp. snipped dill, for garnish (optional)
Directions
Melt the butter in a small Dutch oven over medium-high heat. Saute the onion until translucent, 4 minutes. Add the garlic and saute until the onions are golden, 5 to 6 minutes.
Add the tomatoes with their juices, the sugar, thyme, mace and cayenne. Bring to a boil, cover, and simmer the soup until the tomatoes and onion are soft, about 15 minutes.
Let the soup sit 20 minutes, uncovered. Transfer it to a blender (or use an immersion blender) and reduce the mixture to a puree, either pulpy or completely smooth, as desired. Blend in the half-and-half. Season the soup to taste with salt and pepper.
Serve the soup hot, sprinkling one-fourth of the dill over each bowl, if using.

Recipe Yield: Yield: 4 servings
Nutritional Information Per Serving:
Calories: 105
Fat: 3 grams
Fiber: 0.5 grams
Sodium: 586 milligrams
Protein: 3 grams
Carbohydrates: 18 grams

Content Continues Below ⤵ ↷
Diabetic Exchanges
1 Reduced-Fat Milk, 1 Vegetable