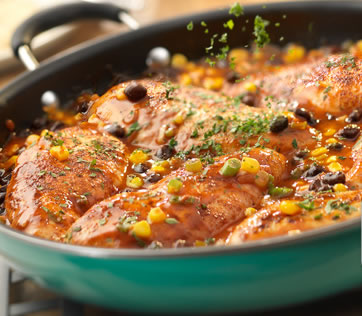 Ingredients
2 teaspoons chili powder
1 teaspoon ground cumin
1 tablespoon vegetable oil
6 skinless, boneless chicken breast halves (about 1-3/4 pounds)
1 teaspoon minced garlic
4 green onions, minced (about 1/2 cup)
1 can (10 3/4 ounces) Campbell's Healthy Request Condensed Healthy Request Tomato Soup
1/2 cup Pace Picante Sauce
1/2 cup water
1 can (about 15 ounces) black beans, rinsed and drained
1 cup whole kernel corn
2 tablespoons chopped fresh cilantro leaves
Directions
Stir the chili powder and cumin in a small bowl. Season the chicken with the chili powder mixture.
Heat the oil in a 12-inch skillet over medium-high heat. Add the chicken and cook for 6 minutes or until browned on both sides. Add the garlic and onions and cook and stir for 1 minute.
Stir in the soup, picante sauce and water and heat to a boil. Reduce the heat to medium-low. Add the beans and corn. Cover and cook for 15 minutes or until the chicken is cooked through. Sprinkle with the cilantro.
Notes:
This Santa Fe Chicken is a flavorful one-skillet dish and it's a snap to make. Serving size is 1 piece of chicken and 3/4 cup sauce.

Recipe Yield: Yield: 6 servings
Content Continues Below ⤵ ↷
Nutritional Information Per Serving:
Calories: 308
Fat: 7 grams
Saturated Fat: 1 grams
Fiber: 6 grams
Sodium: 486 milligrams
Cholesterol: 78 milligrams
Protein: 35 grams
Carbohydrates: 27 grams


Source: Campbells; Culinary.net and FamilyFeatures