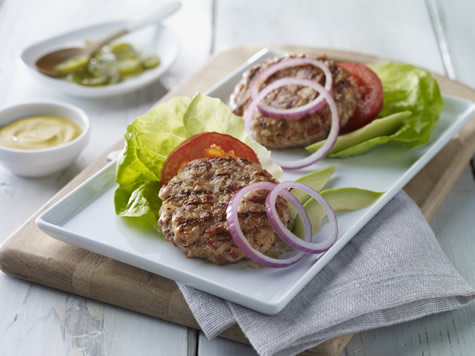 Ingredients

1 (16-ounce) package Jennie-O Extra Lean Ground Turkey Breast
1 (16-ounce) package Jennie-O Lean Ground Turkey
15 slices of chopped, uncooked Jennie-O Turkey Bacon
1/2 cup minced onion
1 tablespoon chopped garlic
1/2 teaspoon freshly ground black pepper
10 lettuce leaves
10 tomato slices
20 sweet onion slices
avocado slices, if desired
pickled jalapeno slices, if desired
mustard, if desired

Directions

In large mixing bowl, combine ground turkey,onion, garlic and pepper*.
Add 15 slices of chopped, uncooked Jennie-O Turkey Bacon to the meat mixture. For ease of chopping, place bacon slices in freezer for 15 minutes. Chop finely while still firm.
Form into 10 patties. Ideally, make this mixture at least 8 hours before cooking so that the turkey can marinate with the other ingredients. Freeze any extra formed patties to thaw later.
Heat grill to medium-high heat. Grill turkey burgers approximately 14 to 16 minutes. Always cook to well-done, 165F as measured by a meat thermometer.
Layer lettuce, tomato, turkey burger and onion. Top with avocado, pickled jalapeno and mustard, if desired.

Always cook to an internal temperature of 165F. Learn how to safely handle turkey.
Notes:
If you're a fan of The Biggest Loser show, then you may have recently watched host Bob Harper teach contestants how to make Turkey Bacon Burgers. The contestants loved their Turkey Bacon Burgers and now we're sharing the recipe for you to try

Recipe Yield: Makes 10 servings
Content Continues Below ⤵ ↷
Nutritional Information Per Serving:
Calories: 140
Fat: 4 grams
Saturated Fat: 4 grams
Fiber: 1 grams
Sodium: 65 milligrams
Cholesterol: 55 milligrams
Protein: 20 grams
Carbohydrates: 6 grams
Sugars: 4 grams


Source: Jennie-O