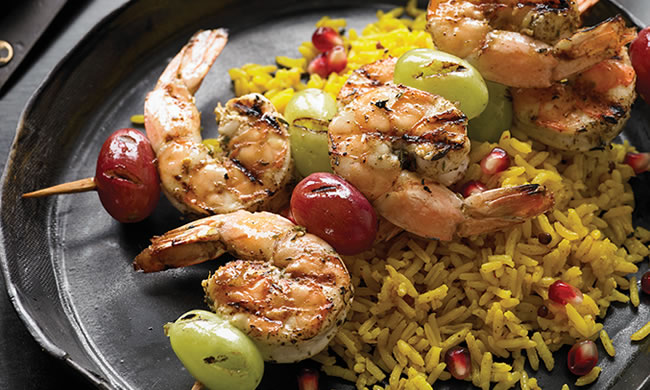 Zahtar is a Middle Eastern spice blend which is made with dried thyme, toasted sesame seeds, ground sumac, and salt. Zahtar is the type of spice blend that varies from family to family, and versions of it can be found in the international aisle of many grocery stores and supermarkets.
Grapes of all colors – red, green and black – are a natural source of beneficial antioxidants and other polyphenols. At just 90 calories per serving, they also contain no fat, no cholesterol and virtually no sodium. A grape-enriched diet helped protect against metabolic brain decline in Alzheimer's-related areas of the brain, according to research from the University of California-Los Angeles. You can find more healthy grape recipes at Grapes from California. You can reduce the amount of sodium in this dish by 100mg per serving by cutting out the sea salt.
Ingredients
2 tablespoons zahtar
1 clove garlic, minced
1 teaspoon chopped fresh thyme
2 tablespoons white balsamic vinegar
1 teaspoon honey
1/8 teaspoon sea salt
1/8 teaspoon pepper
2 tablespoons extra-virgin olive oil
36-40 large shrimp (about 2 pounds), shelled and deveined
1 cup whole green California grapes
1 cup whole red California grapes

Directions
Content Continues Below ⤵ ↷
In medium bowl, combine zahtar, garlic, thyme, vinegar, honey, salt, pepper and olive oil. Whisk to combine. Add shrimp and toss to coat. Cover and refrigerate at least 30 minutes or up to 4 hours.
Thread shrimp and grapes onto skewers. Heat grill or grill pan to medium-high.
Grill skewers, turning once, until shrimp are lightly charred and cooked through and grapes are caramelized but firm, about 2-3 minutes per side.
Nutritional Information Per Serving:
Calories: 190
Calories from fat: 53
Fat: 6 grams

1
grams
Fiber:
1
grams
Sodium:
870
milligrams
Cholesterol:
180
milligrams
Protein:
20
grams
Carbohydrates:
12
grams

Source: Grapes from California