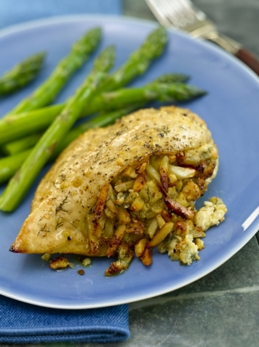 Ingredients

4 boneless skinless chicken breast halves (about 5 ounces each)
4 ounces crumbled blue cheese (any variety, including Gorgonzola)
1/2 cup slivered almonds
1 apple (preferably Mackintosh, Gala, or Jufi), peeled, cored and diced
3 teaspoons chopped fresh dill
salt and freshly ground pepper
4 teaspoons olive oil
1 tablespoon plus 1 teaspoon (4 teaspoons) dried minced onion (from the spice aisle)

Directions

Preheat the oven to 400F.
Coat a shallow roasting pan with cooking spray.
Using a sharp paring knife, slice a pocket into each chicken breast, as if halving a bagel, without completely cutting through the other side.
Arrange chicken in prepared pan and set aside.
In medium bowl, combine blue cheese, almonds, apple, and dill. Add a pinch each of salt and black pepper. Mix together with a fork until mixture is well blended and comes together.
Divide mixture into four equal portions and spoon each portion into the pocket of the chicken. Brush olive oil all over the top of chicken and season the top with salt, black pepper and dried onion (1 teaspoon dried onion for each breast).
Bake 25 to 30 minutes, until chicken is golden brown and cooked through.
Notes:
Apples, almonds and blue cheese, mixed with vibrant, fresh dill and stuffed into tender chicken breasts. You get a bounty of flavors in every bite.

Recipe Yield: Yield: 4 servings
Content Continues Below ⤵ ↷
Nutritional Information Per Serving:
Calories: 490
Fat: 25 grams
Saturated Fat: 7.9 grams
Sodium: 867 milligrams
Cholesterol: 141 milligrams
Protein: 53 grams
Carbohydrates: 11 grams


Source: Almond Board of California