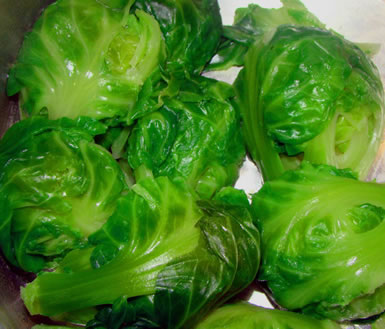 Ingredients

10 oz. fresh Brussels sprouts, the smallest available
2-3 Tbsp. extra-virgin olive oil
1-2 garlic clove (or to taste), finely minced
1-1/2 Tbsp. balsamic vinegar, or to taste
1/4 cup minced red bell pepper
1 Tbsp. finely-chopped flat-leaf parsley
Salt and freshly ground black pepper, to taste

Directions

Steam the Brussels sprouts just until tender, either on top of the stove or in a microwave at medium power.
While the sprouts are cooking, whisk together the olive oil with the vinegar and garlic. Set the dressing aside.
When the sprouts are done, drain them well and place in a shallow serving bowl. Re-blend dressing and drizzle over sprouts. Sprinkle top of sprouts with the red pepper and parsley. Season to taste with salt and pepper. Serve hot.

Recipe Yield: Makes 4 servings.
Nutritional Information Per Serving:
Calories: 98
Fat: 7 grams
Saturated Fat: under 1 grams
Fiber: 2 grams
Sodium: 195 milligrams
Protein: 2 grams
Carbohydrates: 8 grams