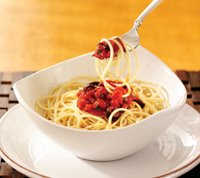 Ingredients

16 ounces Dreamfields Spaghetti
1 tablespoon olive oil
2 cloves garlic, minced
1 tablespoon red onion, chopped
1/4 teaspoon hot pepper flakes
1/4 cup white wine or chicken broth
1 can (28-ounces) whole peeled tomatoes
1/2 cup sliced black olives
2 tablespoons capers, drained
1 tablespoon fresh basil, chopped (or 1 teaspoon dried)
1/4 cup Parmesan cheese

Directions

Heat oil in a large skillet over medium heat. Cook garlic, onion and pepper flakes 5 minutes or until sizzling hot. Add wine or chicken broth and cook until liquid has evaporated, about 3 minutes.
Drain tomatoes and break up. Add into skillet along with olives and cook 5 minutes. Add oregano and basil, cook on medium for 10 minutes, stirring frequently.
Prepare pasta according to package directions; drain well. Toss pasta with sauce and Parmesan cheese. Serve immediately.

Using fresh ingredients, like herbs, increases the intensity of the flavor. This basic tomato sauce may be made ahead of time and stored in the refrigerator for up to 48 hours or freezer up to 2 months.
Notes:
When fresh tomatoes are abundant in the summer and fall, I will use them. Because this is a primary sauce, I use canned tomatoes when fresh are no longer available. You may omit the red pepper for milder flavor or substitute Kalamata olives for the capers and black olives. – Chef Antonio.
Content Continues Below ⤵ ↷

Recipe Yield: Serves 4
Nutritional Information Per Serving:
Calories: 443
Fat: 9 grams
Saturated Fat: 2 grams
Fiber: 10 grams
Sodium: 541 milligrams
Cholesterol: 6 milligrams
Protein: 17 grams
Carbohydrates: 0 grams


Source: Dreamfields