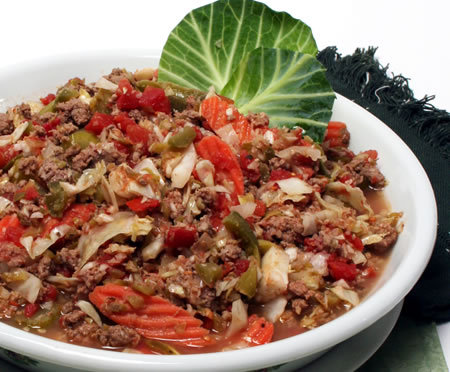 Ingredients

1 lb. ground turkey
1 large onion, chopped
6 cloves garlic, minced
3 medium carrots, thinly sliced
2 medium stalks celery, thinly sliced
2 medium green bell peppers, diced
1 small green cabbage, chopped
1 (28 oz.) can no salt added diced tomatoes
3/4 cup reduced-fat, reduced-sodium chicken broth
1 Tbsp. vinegar
1 tsp. dried thyme
1 tsp. dried basil
1/4 tsp. cayenne or red pepper, or to taste
Salt and freshly ground black pepper

Directions

In large pot over medium-high heat saute turkey, onion, garlic, carrots, celery and peppers about 12-14 minutes or until turkey is no longer pink.
Stir in remaining ingredients. Cover and bring to a boil. Uncover and let simmer about 15 minutes or until vegetables are tender.
Serve hot over whole-wheat wide noodles.

Recipe Yield: Yield: 6 servings
Nutritional Information Per Serving:
Calories: 203
Fat: 7 grams
Saturated Fat: 2 grams
Fiber: 6 grams
Sodium: 208 milligrams
Protein: 18 grams
Carbohydrates: 21 grams