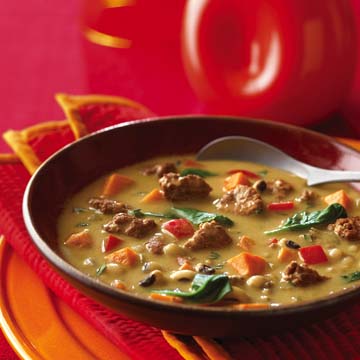 Ingredients

1-1/2 pounds 95% ground beef
1 cup diced peeled sweet potato
1/2 cup chopped onion
1/2 cup chopped red bell pepper
1 teaspoon curry powder
2 tablespoons all-purpose flour
2 cups water or ready-to-serve beef broth
1 can (15-1/2 ounces) black-eyed peas, rinsed, drained
1 can (13-1/2 ounces) light unsweetened coconut milk
2 cups packed fresh baby spinach leaves
3 tablespoons chopped fresh thyme
Salt and ground black pepper

Directions

Heat large nonstick skillet over medium heat until hot. Add ground beef; cook 8 to 10 minutes, breaking into 3/4-inch crumbles and stirring occasionally. Remove from skillet with slotted spoon. Pour off drippings in pan; add sweet potato, onion, bell pepper and curry powder. Cook 4 to 5 minutes or until onion and pepper are crisp-tender, stirring occasionally. Stir in flour; cook and stir 1 minute.
Stir in water, black-eyed peas and coconut milk; bring to a boil. Reduce heat; cover and simmer 5 to 8 minutes or until sweet potato is tender. Stir in spinach and thyme. Cook 1 minute or until spinach wilts. Season with salt and black pepper, as desired.
Notes:
This recipe is an excellent source of protein, niacin, vitamin B6, vitamin B12, iron, selenium and zinc; and a good source of fiber.

Recipe Yield: Makes 6 servings
Content Continues Below ⤵ ↷
Nutritional Information Per Serving:
Calories: 308
Fat: 11 grams
Saturated Fat: 6 grams
Fiber: 4 grams
Sodium: 327 milligrams
Cholesterol: 76 milligrams
Protein: 30 grams
Carbohydrates: 22 grams


Source: NCBA