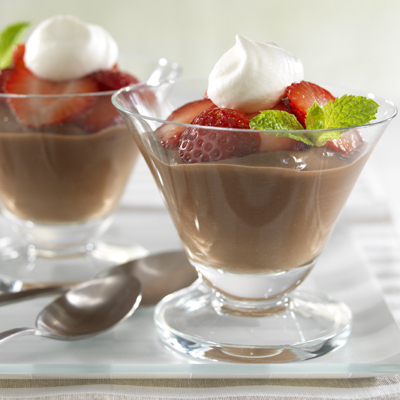 Ingredients

2 tablespoons cornstarch
3 tablespoons cocoa powder
6 packets Splenda Essentials No Calorie Sweetener with Fiber, divided
1 1/2 cups skim milk
1/4 cup egg substitute
1 teaspoon vanilla extract
2 teaspoons butter
2 cups fresh strawberries, sliced
1/4 cup fat-free whipped topping

Directions

Mix cornstarch, cocoa powder and 5 packets of Splenda Essentials No Calorie Sweetener with Fiber together in a small mixing bowl. Set aside.
Combine milk, egg substitute, and vanilla in a small sauce pot.
Whisk in cocoa powder mixture until well blended. Add butter.
Heat on medium heat until thickened, stirring constantly for about 5 minutes. Remove from heat. Refrigerate until cool, about 30-40 minutes.
Mix strawberries and remaining one packet of Splenda No Calorie Sweetener with Fiber. Stir well.
Spoon pudding into individual serving cups or parfait dishes. Top each serving with berries and finish with 1 tablespoon of whipped topping.

Recipe Yield: Serves: 4``Serving Size: 1 cup pudding, 1/2 cup strawberries
Nutritional Information Per Serving:
Calories: 120
Fat: 3.5 grams
Saturated Fat: 2 grams
Fiber: 4 grams
Sodium: 85 milligrams
Cholesterol: 0.5 milligrams
Protein: 6 grams
Carbohydrates: 22 grams
Sugars: 20 grams


Source: Splenda
Recipe and image appear courtesy of Splenda.