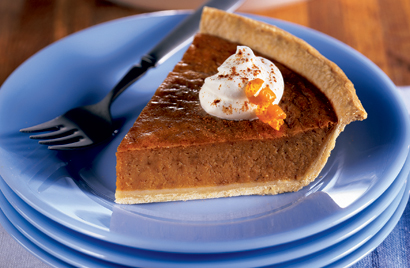 Ingredients

Pastry for single-crust 9-inch pie
2 cups cooked, mashed sweet potatoes (about 2 Pastry for single-crust 9-inch pie pounds)
2 eggs, lightly beaten
1 cup Equal Spoonful or Granulated*
1 tablespoon all-purpose flour
1 teaspoon lemon juice
1 teaspoon vanilla
1/2 teaspoon ground cinnamon
1/2 teaspoon ground nutmeg
1/2 teaspoon salt
1 can (12 ounces) evaporated fat-free milk
Light whipped topping (optional)
Grated nutmeg (optional)

* May substitute 24 packets Equal sweetener

Directions

Roll pastry on floured surface into a circle 1 inch larger than inverted 9-inch pie plate. Ease pastry into plate; trim and flute edge. Set aside.
Blend sweet potatoes in mixing bowl on medium speed of mixer until smooth. Stir in eggs, Equal, flour, lemon juice, vanilla, spices, salt and evaporated milk. Pour mixture over pastry shell.
Bake in preheated 400F oven 40 to 45 minutes or until filling is set and sharp knife inserted into center comes out clean.
Cool pie completely on wire rack. Cover and refrigerate. Garnish top of pie with whipped topping and grated nutmeg, if desired. Cut pie into wedges.

Recipe Yield: Yield: 8 servings
Nutritional Information Per Serving:
Calories: 197
Fat: 6 grams
Sodium: 316 milligrams
Cholesterol: 58 milligrams
Protein: 7 grams
Carbohydrates: 28 grams

Content Continues Below ⤵ ↷
Diabetic Exchanges
2 starch, 1 fat

Source: Equal
Recipe and image appear courtesy of Equal.