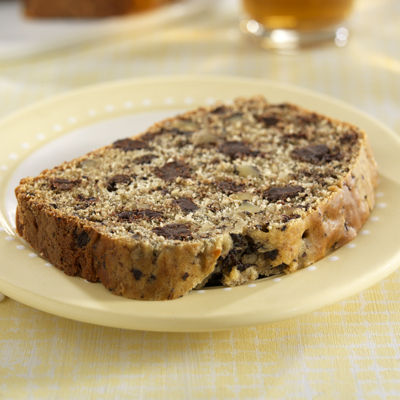 Ingredients

2 cups all-purpose flour
1 cup Splenda No Calorie Sweetener, Granulated
2 teaspoons baking powder
1/2 teaspoon baking soda
1/4 teaspoon salt
6 (1 ounce) squares Bakers* Semi-Sweet Baking Chocolate
2 eggs
1 cup mashed ripe bananas
1/3 cup oil
1/4 cup milk
1/2 cup chopped walnuts

Directions

Preheat oven to 350 degrees F. Grease 9x5-inch loaf pan. Set aside.
Combine flour, Splenda Granulated Sweetener, baking powder, baking soda, and salt in a large bowl. Set aside. Coarsely chop baking chocolate bars.
Mix eggs, bananas, oil, and milk in a large bowl until well blended. Add dry ingredients; stir until just moistened. Stir in chopped chocolate and walnuts.
Pour into greased loaf pan.
Bake for 45 minutes or until toothpick inserted in center comes out clean. Cool 10 minutes. Remove from pan; cool completely on wire rack.

Recipe Yield: Serves: 18``Serving Size: 1 (1/2 inch) slice
Nutritional Information Per Serving:
Calories: 180
Fat: 10 grams
Saturated Fat: 2.5 grams
Fiber: 2 grams
Sodium: 105 milligrams
Cholesterol: 25 milligrams
Protein: 4 grams
Carbohydrates: 21 grams


Source: Splenda
Recipe and image appear courtesy of Splenda.