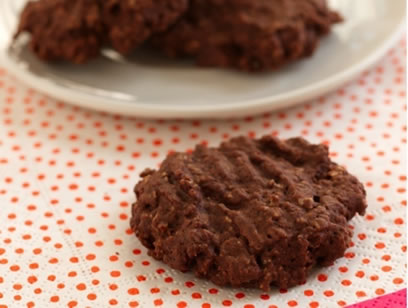 Ingredients

1 cup all-purpose flour
1 1/4 cups rolled oats
6 tablespoons cocoa powder
1 teaspoon baking powder
1/2 teaspoon salt
6 tablespoons trans-free margarine, softened
1/2 cup SPLENDA Sugar Blend
2 eggs
2 teaspoons vanilla extract
1 teaspoon almond extract

Directions

Preheat oven to 350 degrees F.
Combine flour, oats, cocoa, baking powder, and salt.
In bowl of electric mixer, beat margarine and SPLENDA Sugar Blend on medium speed 1 to 2 minutes, or until light and aerated. Beat in eggs for 1 minute, or until light. Beat in vanilla and almond extract. Stir in dry ingredients.
Drop teaspoonfuls of dough onto lightly greased baking sheets and flatten each with the back of a fork dipped in water.
Bake 8 to 10 minutes, or just until puffed and no longer shiny on top. Cool on sheets 5 minutes. Remove to wire racks; cool completely.

Recipe Yield: Yield: 40 cookies``Serving size: 1 cookie
Nutritional Information Per Serving:
Calories: 50
Fat: 2 grams
Fiber: 1 grams
Sodium: 55 milligrams
Cholesterol: 10 milligrams
Protein: 1 grams
Carbohydrates: 7 grams


Source: Splenda
Recipe and image appear courtesy of Splenda.