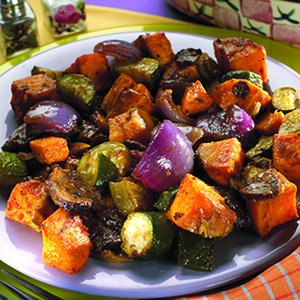 Ingredients

4 cups peeled, cubed sweet potatoes (yams), cut in 1-inch cubes
1 1/2 cups zucchini, cut into small chunks
1 small red onion, cut into small chunks
1 6-ounce package portabella mushroom slices, halved
2 tablespoons olive oil
3 tablespoons reduced-sodium taco seasoning mix (about half a 1.25-ounce packet)
Salt to taste (optional)

Directions

Preheat oven to 425F. Coat baking sheet with nonstick cooking spray or line with foil.
In large bowl, combine sweet potatoes, zucchini, onion and mushrooms. Toss with olive oil to coat. Sprinkle with taco seasoning and spread vegetables on baking sheet.
Bake 40 minutes, shaking pan every 15 minutes, until vegetables are tender and roasted.

Recipe Yield: Yield: Makes 8 (1/2-cup) servings
Nutritional Information Per Serving:
Calories: 110
Fat: 4 grams
Sodium: 209 milligrams
Protein: 2 grams
Carbohydrates: 17 grams


Source: Holly Clegg's Trim & Terrific Diabetic Cooking
Book Title: Holly Clegg's Trim & Terrific Diabetic Cooking