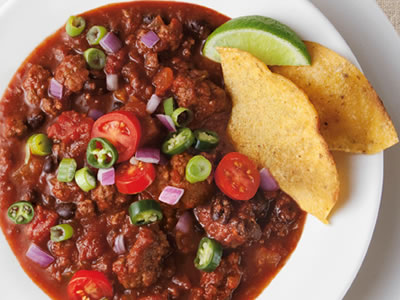 Ingredients

2 pounds Ground Beef (95% lean)
1 can (28 ounces) crushed tomatoes, undrained
1 can (14-1/2 ounces) diced tomatoes with mild green chilies
1 can (14 to 14-1/2 ounces) regular or reduced-sodium beef broth
1 bottle (12 ounces) regular or light beer
1 medium yellow onion, diced
2 medium green, red, yellow or orange bell peppers, diced
1 can (6 ounces) tomato paste
1/3 cup chili powder
1 large jalapeno pepper, seeded, finely chopped
2 tablespoons minced garlic
1 tablespoon ground cumin
1 teaspoon dried oregano leaves
2 cans (15 ounces each) black beans, rinsed, drained
Lime wedges and baked tortillas chips (optional)

Toppings:

Sliced cherry tomatoes, sliced green onions, sliced serranos or jalapenos, chopped onion

Directions

Heat stockpot over medium heat until hot. Add Ground Beef; cook 8 to 10 minutes, breaking into 3/4-inch crumbles and stirring occasionally. Remove drippings.
Add tomatoes, beef broth, beer, onions, bell peppers, tomato paste, chili powder, jalapeno pepper, garlic, cumin and oregano to stockpot, stirring to combine. Bring to a boil; reduce heat and simmer, uncovered, 45 minutes, stirring occasionally.
Stir in black beans and continue to simmer 15 minutes or until thickened to desired consistency, stirring occasionally.
Season with salt and black pepper, as desired. Garnish with Toppings, as desired. Serve with lime wedges and baked tortilla chips, if desired.

Note: Cooking times are for fresh or thoroughly thawed Ground Beef. Ground Beef should be cooked to an internal temperature of 160F. Color is not a reliable indicator of Ground Beef doneness.

Recipe Yield: Makes 8 servings
Content Continues Below ⤵ ↷
Nutritional Information Per Serving:
Calories: 318
Fat: 7 grams
Saturated Fat: 3 grams
Fiber: 7.5 grams
Sodium: 955 milligrams
Cholesterol: 76 milligrams
Protein: 32 grams
Carbohydrates: 28 grams


Source: TBC
Recipe and photo appears courtesy of Cattlemen's Beef Promotion Board.