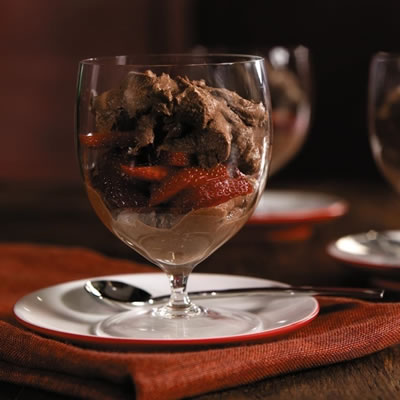 Ingredients

3 ounces unsweetened chocolate
1 cup low fat milk
1/4 cup egg substitute
1/2 cup Splenda No Calorie Sweetener, Granulated
1 teaspoon cornstarch
2 tablespoons orange liqueur (Grand Marnier, Curacao, Triple Sec, or brandy)*
1/2 cup heavy cream
3 cups sliced strawberries

Directions

Place chocolate and milk in a medium saucepan. Heat over medium heat until chocolate melts. Set aside.
Stir together egg substitute, Splenda Granulated Sweetener, cornstarch and Grand Marnier in a small mixing bowl. Add to chocolate mixture. Stir constantly. Cook over medium heat while stirring constantly, until mixture begins to thicken (approx. 3-4 minutes). Remove from heat and pour into the bowl of a blender or food processor. Blend or process briefly (10-20 seconds) to make a more creamy texture. Pour into medium bowl and cover.
Refrigerate chocolate mixture approx. 2-3 hours or until cool. Whip cream until stiff and fold into chocolate. Refrigerate overnight to set. Will keep refrigerated for 3 days.
To serve, layer strawberries and mousse in 6 all- purpose wine glasses.
Notes:
This chilled, layered dessert topped with strawberries is quite impressive. Be sure to allow time to let it set! It's well worth the wait. Alcohol can be replaced with 1 teaspoon orange extract.

Recipe Yield: Yield: 6 Servings``Serving Size: 3/4 cup mousse, 1/2 cup strawberries
Content Continues Below ⤵ ↷
Nutritional Information Per Serving:
Calories: 220
Fat: 17 grams
Saturated Fat: 10 grams
Fiber: 4 grams
Sodium: 50 milligrams
Cholesterol: 30 milligrams
Protein: 5 grams
Carbohydrates: 16 grams
Sugars: 6 grams


Source: Splenda
Recipe and image appear courtesy of Splenda.