Easter Side Dishes
Home / Diabetic Recipe Archive / Holiday and Special Occasions / Easter Recipes
Easter Side Dishes
This collection of side dishes offer a great way to add some excitement to your Easter menu. You'll find classics, like Roasted Brussels Sprouts and Candied Yams, to fun alternatives like Creamy Cauliflower (mock mashed potatoes). All recipes provide nutritional information to your Easter menu planning and diabetic meal planning easy.
Easter Side Dishes
Latest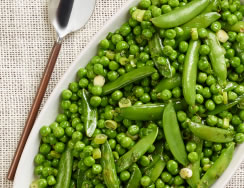 Recipe for Fresh Peas with Mint from our Side Dishes recipe section.
Most Downloaded Recipes in this Collection
All Recipes from this Category

Recipe for Ham and Peas with Mint and Tarragon from our Side Dishes recipe section.