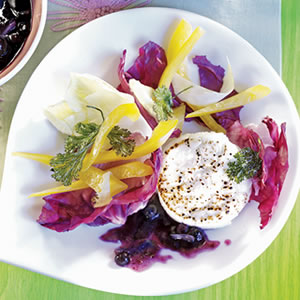 Ingredients

Sauce

2 large or 3 medium shallots
2 tablespoons olive oil
1-1/2 cups frozen Wild Blueberries
3 ounces water
3 tablespoons Grey Poupon mustard
1 tablespoon peach or apricot preserves
1 tablespoon cornstarch
1/2 teaspoon salt

Salad

2 endives
1 radicchio
2 yellow peppers
2 tablespoons white wine vinegar
1/4 teaspoon salt
1/8 teaspoon pepper or more to taste
1 pinch sugar
3 tablespoons olive oil

Cheese

6 (2-inch) rounds goat cheese
1/2-inch thick (about 6 ounces)
2 tablespoons powdered sugar
1/2 teaspoon ground coriander

Directions

Content Continues Below ⤵ ↷
Sauce: Peel and dice shallots. Sauté in olive oil until softened, about 3 to 5 minutes. Stir in Wild Blueberries, water, mustard and preserves. Cook, stirring until comes to a simmer. Simmer 3 to 5 minutes.
Mix cornstarch with a little cold water until the mixture is smooth. Add to the berry mixture, stirring well. Bring to a boil, cook for 2 to 3 minutes. Add salt. Let cool slightly.
Salad: Clean and wash endive, radicchio and peppers. Cut endive into bite size cubes. Slice yellow peppers into thin strips. Cut radicchio into bite sized pieces. Mix vinegar, salt, pepper, sugar and olive oil in big bowl. Add salad ingredients and toss well.
Cheese: Dredge top of goat cheese rounds in powdered sugar. Place goat cheese on baking tray covered with foil. Brown slightly under preheated grill, 1 to 2 minutes. Remove and sprinkle with coriander.
To serve: Assemble each plate with one goat cheese round surrounded by salad ingredients and Wild Blueberry sauce on the side.

Recipe Yield: Yield: 6 servings
Nutritional Information Per Serving:
Calories: 255
Fat: 10 grams
Protein: 9 grams
Carbohydrates: 12 grams