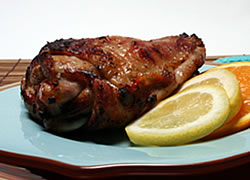 Ingredients

1/4 cup fresh cilantro, finely chopped
1/2 tsp. oregano
1/2 tsp. cumin
2 cloves garlic, crushed
1/2 tsp. fresh ground black pepper
Juice of 1 orange
2 limes juiced
4 Tbsp. extra virgin olive oil, divided
3/4 tsp. Kosher salt
2 pounds turkey breasts or thighs, skin removed

Directions

Mash spices, garlic, cilantro, salt and pepper to create paste. Mix paste with the citrus juices, and 2 Tbsp. olive oil. Add marinade to a sealable plastic bag and add turkey. Marinate for at least 2 hours.
For gas grill, clean grill rack. Set burners to high and close lid. Grill temperature should be about 500 degrees. Use indirect method by turning off burners directly beneath turkey and turning burners on either side to medium to low when cooking. For charcoal grills, use same technique, separating coals to create indirect heat.
Once fire is ready, remove excess marinade and place turkey parts on grill and cook for about 30 minutes. Turn over and brush with remaining olive oil. Continue this process - turning, basting and grilling. Total cooking time is roughly 12 minutes per pound of turkey. Use a meat thermometer. Breast meat should be at 170 degrees and dark meat should be at 180 degrees.
Whether you use a gas or charcoal grill, keep the lid closed as much as possible to maintain heat.
Cover turkey with foil and set aside for 5 minutes, then serve.
Notes:
There are many types of commercial mojo sauces available in America, but you can't beat creating your own.

Recipe Yield: Makes 6 servings.
Content Continues Below ⤵ ↷
Nutritional Information Per Serving:
Calories: 225
Fat: 13 grams
Saturated Fat: 4 grams
Sodium: 350 milligrams
Protein: 24 grams
Carbohydrates: 13 grams