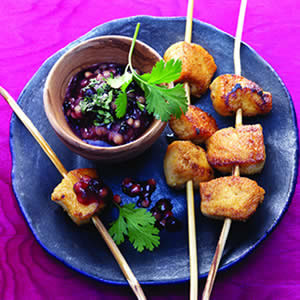 Ingredients

1-1/2 pounds boneless, skinless chicken breast
1 package Tandoori Tikka or Tandoori Chicken marinade
1/2 cup low-fat, plain yogurt
2/3 cup fresh or frozen Wild Blueberries
1/2 cup Wild Blueberry jam
1/2 cup chopped fresh figs (or substitute pears)
1/2 teaspoon orange zest
2/3 cup cooked red lentils
1/4 teaspoon salt
1/4 teaspoon pepper
1/4 teaspoon powdered coriander
1 tablespoon oil or cooking spray
Skewers

Directions

Chop chicken into bite-sized chunks.
Stir together Tandoori Tikka and yogurt in medium bowl and add chicken. Cover and let marinate for at least 1 hour.
Sauce: Stir together Wild Blueberries and jam in a small saucepan. Rinse and chop figs. Add figs and orange zest. Cook sauce stirring until it just comes to a simmer. Remove from heat, cool slightly. Add lentils and season with salt, pepper and coriander.
Pre-heat oven to 425F. Remove chicken from marinade and drain in a colander. Place chicken pieces in an oiled 11 x 13-inch glass baking dish, without allowing them to touch.
Roast 8 to 10 minutes until done. Place chicken on skewers. Serve with the Wild Blueberry dipping sauce. Traditionally accompanied by rice as an entrée.
Notes:
To get the biggest antioxidant punch from your blueberries, be sure to use Wild Blueberries. With twice the antioxidant capacity of larger, cultivated blueberries, the little wild ones freeze perfectly, retaining superior quality, color and sweet, tangy flavor.

Recipe Yield: Serves 4 as entree or 12 as an appetizer
Content Continues Below ⤵ ↷
Nutritional Information Per Serving:
Calories: 123
Fat: 1 grams
Sodium: 130 milligrams
Cholesterol: 30 milligrams
Protein: 14 grams
Carbohydrates: 14 grams