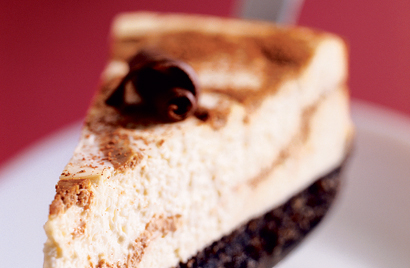 Ingredients

Crust Ingredients:

1-1/4 cups vanilla wafer crumbs
4 tablespoons stick butter or margarine, melted
2 tablespoons Equal Spoonful or Granulated*

Cheesecake Ingredients:

3 packages (8 ounces each) reduced-fat cream cheese, softened
3/4 cup Equal Spoonful or Granulated**
2 eggs
2 egg whites
2 tablespoons cornstarch
1 cup reduced fat sour cream
1 teaspoon vanilla
1 ounce unsweetened chocolate, melted, slightly cooled
1 tablespoon fat-free milk
Chocolate curls (optional)

* May substitute 3 packets Equal sweetener
* May substitute 3 packets Equal sweetener
** May substitute 18 packets Equal sweetener


Directions

Content Continues Below ⤵ ↷
For Crust, mix vanilla wafer crumbs, butter and 2 tablespoons Equal. Press onto bottom and 1/2-inch up side of a 9-inch springform pan. Bake in preheated 325F oven 10 minutes. Cool on wire rack while preparing cheesecake.
For Cheesecake, beat cream cheese and 3/4 cup Equal in mixing bowl on medium speed of mixer until smooth and well combined. Mix in eggs, egg whites and cornstarch. Fold in sour cream and vanilla until combined. Remove 1/2 cup cheesecake batter. Pour remaining batter over baked crust.
Add melted chocolate and fat-free milk to 1/2 cup reserved cheesecake batter; mix well. Place spoonfuls of chocolate mixture on top of cheesecake. Using tip of knife or spatula, gently swirl chocolate batter into cheesecake.
Bake in preheated oven 45 to 50 minutes or until center of cake is almost set. Cool on wire rack. Gently run metal spatula around rim of pan to loosen cake. Let cheesecake cool completely. Cover and refrigerate several hours or overnight before serving. To serve, remove side of pan. Garnish top of cheesecake with chocolate curls, if desired. Cut cake into wedges.
Notes:
New York-style cheesecake swirled with a rich chocolate mixture. Serve with fresh raspberries.

Recipe Yield: Yield: 16 servings
Nutritional Information Per Serving:
Calories: 164
Fat: 11 grams
Sodium: 235 milligrams
Cholesterol: 57 milligrams
Protein: 7 grams
Carbohydrates: 8 grams

Diabetic Exchanges
1 milk, 2 fat

Source: Equal
Recipe and image appear courtesy of Equal.