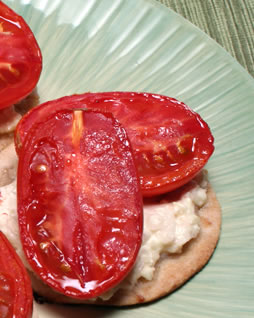 Ingredients

4 tsp. canola oil
3 Tbsp. ice water (approx.)
1/4 cup reduced-fat goat cheese
2 Tbsp. finely minced shallots
1 Tbsp. reduced-fat milk
4 ripe plum tomatoes, halved lengthwise
1 tsp. extra virgin olive oil
Salt and freshly ground black pepper, to taste
1/4 cup whole-wheat flour
3/4 cup unbleached all-purpose flour
3 tsp. sugar, divided
1/8 tsp. of salt
2 Tbsp. unsalted butter, cut into small pieces and chilled

Directions

Preheat oven to 350 degrees. Arrange tomatoes on baking sheet, cut side up, and rub with oil. Season with 1/2 teaspoon salt and pepper. Roast for 45 minutes, until tomatoes are barely soft and hold their shape. Set aside, and decrease oven to 325 degrees.
In food processor, combine whole-wheat flour, all-purpose flour, 2 tsp. sugar and salt. Pulse a few seconds to combine. Add butter and oil. Pulse until mixture resembles lumpy crumbs. With food processor running, add ice water, 1 teaspoon at a time, until dough just starts to come together. Turn dough out onto wax paper and gently press together, making 5-inch disk. Wrap dough in wax paper and refrigerate 30 minutes, up to 24 hours.
If dough is chilled longer than 30 minutes, let sit at room temperature 10 minutes. Place dough between 2 sheets of wax paper and roll out into an 11-inch disk. Remove top sheet of waxed paper. Using a glass as a guide, cut out four 4-inch rounds of dough and transfer to baking sheet. Prick dough all over with fork and refrigerate 10 minutes. Bake tartlet rounds 10 minutes. Remove baking pan and increase oven temperature to 375 degrees.
For filling, in a small bowl, mash together goat cheese, shallots, milk and season with 1/4 teaspoon salt. Spread one-fourth of cheese on each tartlet round. Top with 2 roasted tomato halves, cut side up. Sprinkle remaining 1 tsp. sugar over tomatoes
Bake 10 minutes, or until pastry edges are lightly golden. Cheese will look cracked. Let tartlets stand 10 minutes. Serve warm.

Recipe Yield: Makes 4 servings.
Nutritional Information Per Serving:
Calories: 250
Fat: 12 grams
Saturated Fat: 4 grams
Fiber: 2 grams
Sodium: 115 milligrams
Protein: 5 grams
Carbohydrates: 27 grams


Source: AICR
Recipe and image appear courtesy of American Institute for Cancer Research.