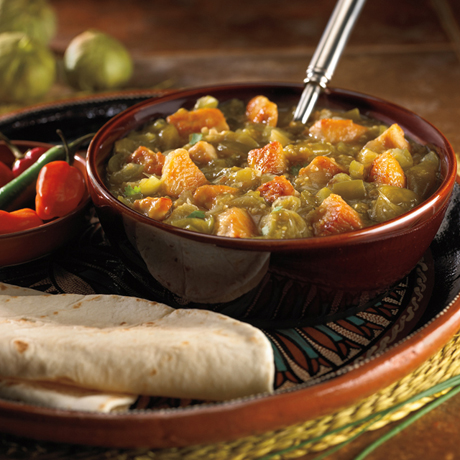 Ingredients

1 package (about 1 pound) Honeysuckle White Turkey Breast Tenderloins
1 pound tomatillos
2 tablespoon vegetable oil
1 medium green bell pepper, seeded and chopped
1 medium white onion, chopped
1 jalapeno pepper, seeded and chopped
1 tablespoon minced garlic
Salt and black pepper
1/4 cup chopped cilantro
Optional: Corn or flour tortillas (not included in nutritional information)

Directions

Cut turkey into 1/2-inch cubes.
Remove papery husks from tomatillos; rinse tomatillos in hot water and cut into quarters.
In large nonstick skillet, heat oil over medium heat. Add turkey; cook about 5 minutes or until it turns white.
With slotted spoon, transfer turkey to large saucepan.
Add bell pepper, onion, jalapeno and garlic to same skillet; season with salt and pepper.
Cook about 5 minutes or until vegetables start to soften.
Add vegetables and tomatillos to saucepan with turkey; bring to a simmer. Cover and cook over low heat about 30 minutes or until turkey is tender. If there is too much liquid, uncover and simmer until liquid has cooked down.
Add cilantro; serve with rice, corn or flour tortillas, if desired.

Recipe Yield: Yield: 4 servings
Nutritional Information Per Serving:
Calories: 240
Fat: 9 grams
Saturated Fat: 1 grams
Fiber: 3 grams
Sodium: 60 milligrams
Cholesterol: 70 milligrams
Protein: 30 grams
Carbohydrates: 11 grams
Sugars: 6 grams


Source: Honeysuckle White