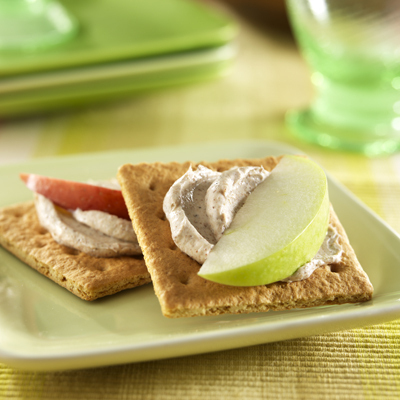 Ingredients

12 graham crackers
1 (8 ounce) pkg. reduced-fat cream cheese
2 tablespoons Splenda Essentials No Calorie Sweetener with Fiber, Granulated
1 teaspoon cinnamon
1 thinly sliced large apple

Directions

Break graham crackers in half and set aside.
Combine cream cheese, Splenda Essentials Granulated Sweetener with Fiber and cinnamon. Spread 2 teaspoons of cream cheese onto each cracker half.
Top crackers with apple slices.
Notes:
Crisp graham crackers topped with a layer of cinnamon spiced cream cheese and sliced apples for a quick and tasty treat.

Recipe Yield: Yield: 24 servings``Serving Size: 1 topped cracker
Content Continues Below ⤵ ↷
Nutritional Information Per Serving:
Calories: 60
Fat: 2.5 grams
Saturated Fat: 1 grams
Fiber: 1 grams
Sodium: 70 milligrams
Cholesterol: 5 milligrams
Protein: 2 grams
Carbohydrates: 8 grams
Sugars: 3 grams


Source: Splenda
Recipe and image appear courtesy of Splenda.