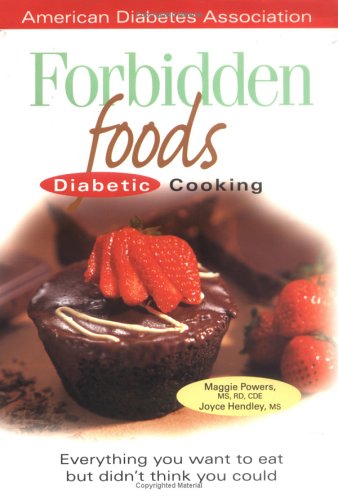 Foods help to identify us--who we are, where we come from, what customs we observe. Maybe Thanksgiving just wouldn't be the same without Grandma's candied yams, or the Fourth of July just couldn't happen without those deviled eggs that you love. Unfortunately, when you have to consider calories and exchanges, some of those foods that meant the most to you suddenly become forbidden. This book was written to help you reclaim your favorite foods.
Best of all, authors Maggie powers and Joyce Hendley have found inventive ways to prepare these foods with all the great taste of your traditional recipes. Forbidden Foods Diabetic Cooking will also teach you how to modify your own family recipes to make them healthier without losing the flavor you enjoy. So, next time you're faced with cooking for a family gathering, don't feel guilty--make a dish you love and rest assured that your meal choices are always welcomed, never forbidden.
If the title of this next book doesn't make you want to pick it up and sneak a peek, you've probably never been on a "diet." FORBIDDEN FOODS: DIABETIC COOKING, by Maggie Powers, MS, RD, CDE, and Joyce Hendley, MS, dares us to look behind the cover!
According to the authors, foods help to identify us --- who we are, where we come from, and what customs we observe. Special foods are part of our traditions, life experiences, and family histories. They influence what we eat at holidays, birthdays and other celebrations -- part of the traditions we want to maintain and pass on to others. Unfortunately, when we have to consider calories, fats, exchanges or carbohydrates, some of the very foods that meant so much to us suddenly become "forbidden." Powers and Hendley underscore that "Just because you have diabetes, you don't have to give up this part of who you are!"
"Forbidden Foods: Diabetic Cooking" features 150 recipes for the foods we used to love. Delectable recipes for Cinnamon Coffee Cake, Boston Cream Pie, Devil's Food Cake, Chicken Pot Pie, Fettuccine Alfredo ... I could go on all day! Powers and Hendley have found inventive ways to prepare these foods and best of all, instructions on how to modify your own family favorites without sacrificing flavor, are included in the Introduction.
Divided into 12 chapters of delicious recipes, the dessert and bread fans will not be disappointed. Quick Breads & Muffins, Cookies & Bars, Classic Cakes, Pies, Crumbles, & Cobblers, Puddings & Creamy Desserts and Chocolate Magic are there to sate your appetite for something sweet. The other half of the book includes healthy chapters on Better Beverages, Starters & Snacks, Sauces, Gravies & Dressings, Faux Fried Foods, Mom's Favorites and Pizza & Pasta.
Folks, you can't lose with this book!
Book Details:
Author:

Maggie Powers


Author: Joyce Hendley
Publisher:

McGraw-Hill


ISBN:

1580400450


View at: Amazon (see sale price)
Format:

Paperback: 224 pages