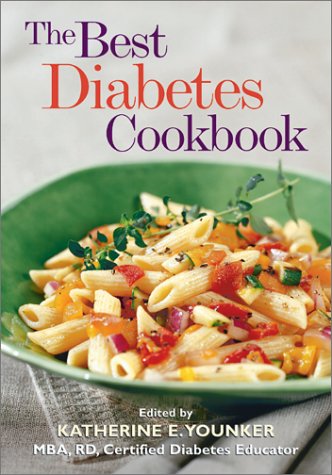 Over 16 millions Americans are living with diabetes. Diet and not enough exercise are contributors to developing the disease. Adopting a healthier lifestyle can greatly lower the risk of developing diabetes. If you have been diagnosed with diabetes, careful meal planning is key to managing the disease.
The Best Diabetes Cookbook makes healthy cooking and eating a breeze -- and that's a major step in taking control of diabetes. Here you'll find lots of interesting recipes for tasty dishes that can be easily incorporated into meal plans. The Best Diabetes Cookbook offers everything from appetizers to family meals, company foods and delicious desserts that everyone can enjoy, whether they are affected by diabetes or not.
Managing diabetes doesn't have to mean eating uninteresting food for the rest of your life. Start cooking with The Best Diabetes Cookbook and you'll be amazed at the wonderful flavors you can savor while following your meal plan.
Hear are some recipes which will make meal planning and preparation a delight: Rotini with Tomatoes, Black Olives and Goat Cheese; Potato Corn Chowder; Salmon with Pesto; Chicken Kabobs with Ginger Lemon Marinade; Hoisin Beef; Chocolate Coffee Tiramisu; and Mango Blueberry Strudel.
If you've been a bit spoiled with fine restaurant cuisine, you'll love "The Best Diabetes Cookbook," edited by Katherine E. Younker, MBA, RD, CD (Certified Diabetes Educator).
Beginning with a great introduction which includes healthy eating to balance blood glucose (sugars), Younker goes on to discuss phytochemicals (substances found in plants which appear to help increase resistance against disease and certain cancers); sweeteners, a fabulous segment which is designed to help you choose the right sweeteners (natural or added, and natural or artificial) for your personal taste and carbohydrate target for each meal; fats and how to control them; exchange lists and how to use them; carbohydrate counting; and the glycemic index (very important in selecting the right carbohydrates for the best nutrition).
Katherine Younker is a cook who "thinks outside of the box" with recipe creations like Greek Egg Rolls with Spinach and Feta, Hot Three-Cheese Dill Artichoke Bake, Penne with Brie Cheese, Tomatoes and Basil, Pasta Salad with Apricots, Dates and Orange Dressing (this is a "must-try" on my list), Fish Fillets with Apples, Raisins and Pecans, Linguine with Shrimp, Red Peppers and Pine Nuts, Veal Stuffed with Cheese in Mushroom Sauce, Grilled Balsamic Vegetables over Penne, Date Roll-Up Cookies, Chocolate Coffee Tiramisu, Two-Tone Chocolate Orange Biscotti, and Pear, Apple and Raisin Strudel. All these, plus more in Vegetarian Main Dishes, Sauces, Marinades and Dressings, Salads, Soups and Appetizers.
You'll find 16 pages of color photography to excite your salivary glands and nearly 150 recipes suitable for those with diabetes and those who just want a taste of exciting culinary expertise in "The Best Diabetes Cookbook." This last book is one you'll want for yourself; maybe that's why it's called "The Best!" Highly recommended.
Book Details:
Author:

Katherine Younker


Publisher:

Robert Rose Inc.


ISBN:

0778800504


View at: Amazon (see sale price)
Format:

Paperback: 192 pages