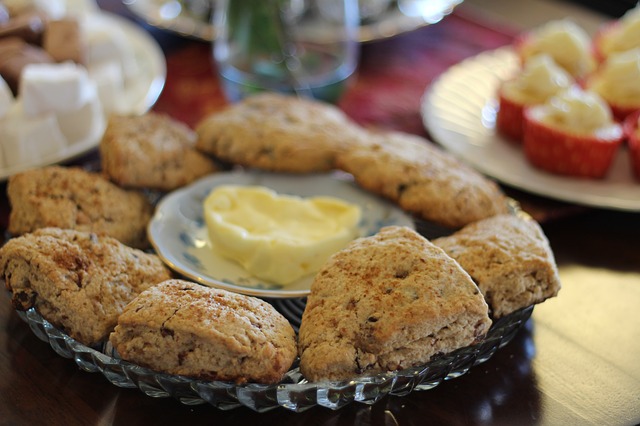 Ingredients

2 cups plus 1 tablespoon all-purpose flour
1/4 cup (1 ounce) fresh grated Parmesan or Romano cheese
2 tablespoons chopped fresh basil, or 2 teaspoons dried basil
2 teaspoons baking powder
1/2 teaspoon baking soda
1/4 teaspoon freshly ground pepper
2/3 cup low-fat (1 percent) buttermilk
3 tablespoons extra virgin olive oil
1 tablespoon beaten egg, or 1 tablespoon egg substitutes

Directions

Preheat the oven to 450 degrees F. Spray a cookie sheet with a generous amount of nonstick pan spray.
Combine 2 cups of the flour, the cheese, basil, baking powder, baking soda, and pepper in a medium bowl.
Add the buttermilk and oil; mix only until the dry ingredients are moistened. Divide the dough into 2 balls. Knead each ball gently 3 times on a surface floured with the remaining 1 tablespoon flour.
Pat the dough into 2 circles, each 7 to 8 inches in diameter, on the prepared cookie sheet. With a sharp knife, score each disk 1/4 inch deep into 6 wedges; do not cut through.
Brush the tops of the dough rounds with egg to glaze. Bake 10 to 12 minutes, or until golden brown. Cut each disk into 6 wedges while hot. Serve the scones warm or at room temperature.

Recipe Yield: Yield: 12 scones (12 servings)
Nutritional Information Per Serving:
Calories: 125
Fat: 4 grams
Sodium: 161 milligrams
Cholesterol: 7 milligrams
Protein: 4 grams
Carbohydrates: 18 grams

Content Continues Below ⤵ ↷
Diabetic Exchanges
1 Starch, 1 Fat

Source: The New Family Cookbook for People with Diabetes
Book Title: The New Family Cookbook for People with Diabetes