Father's Day Breakfast Recipes
Home / Diabetic Recipe Archive / Holiday and Special Occasions / Father's Day Recipes
Father's Day Breakfast Recipes
Treat dad to something special for father's day this year, and make sure it's something diabetic-friendly. Whether it's chocolate chip muffins or steak and eggs, this is the place for Father's Day recipe that can fit into his meal plan. All recipes include nutritional information to make meal planning for diabetes easy.
Father's Day Breakfast Recipes
Latest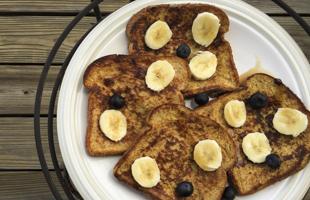 This recipe for French toast includes a hint of vanilla and can include fresh fruit as a naturally...
Most Downloaded Recipes in this Collection
All Recipes from this Category

Create the perfect omelet with the savory French flavors of Provence: tomatoes, garlic, olives and herbs. Make one omelet for two, or two omelets for four. Either way, this easy main dish becomes the highlight of a quick, nutritious meal. Recipe for Omelet Provencal from our recipe section.

View / Load More from: Father's Day Breakfast Recipes