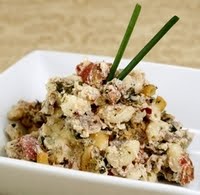 Ingredients

1 box Dreamfields Elbows
1 tablespoon olive oil
2 large shallots, thinly sliced
6 cloves garlic, chopped
1-1/4 pounds Italian-style turkey sausage (casing removed)
1 can (28 ounces) diced tomatoes, undrained
1/4 teaspoon crushed red pepper flakes
Herbed Ricotta (see recipe below)
3/4 cup shredded part-skim mozzarella cheese
Salt and pepper

Herbed Ricotta Ingredients

1 container (15 ounces) part-skim ricotta
1 cup shredded part-skim mozzarella cheese
1/2 cup minced fresh parsley
1/3 cup grated Parmesan cheese
2 tablespoons chopped fresh basil
2 tablespoons chopped fresh oregano

Directions

Cook pasta according to package directions. Drain and return to pan.
Meanwhile, in large nonstick skillet, heat oil over medium-high heat. Add shallots and garlic; cook and stir 1 minute. Add sausage; cook, breaking into crumbles, about 5 minutes until sausage is browned and cooked through, stirring frequently.
Add tomatoes and red pepper flakes to skillet; cook 5 minutes to heat through, stirring occasionally.
Meanwhile, combine all Herbed Ricotta Ingredientsin a large bowl; mix well.
Combine pasta and Herbed Ricotta. Add sausage mixture. Season with salt and pepper, as desired. Spoon into 3-quart casserole dish sprayed with nonstick cooking spray. Top with mozzarella. Bake at 375*F for 30 minutes or until heated through.

Recipe Yield: Makes 9 servings.
Content Continues Below ⤵ ↷
Nutritional Information Per Serving:
Calories: 434
Calories from fat: 42
Fat: 17 grams
Saturated Fat: 7 grams
Fiber: 6 grams
Sodium: 730 milligrams
Cholesterol: 77 milligrams
Protein: 16 grams
Carbohydrates: 0 grams


Source: Dreamfields