Cod Recipes
Home / Diabetic Recipe Archive / Seafood Recipes
Cod Recipes
Cod is a healthy proten source that contains no carbohydrate. A 3-ounce serving of cod provides a good amount of healthy omega-3 fatty acids and more than the daily requirement of vitamin D. You will find a number of different types of cod recipes here, from seafood chowders to battered cod. All of these cod recipes provide nutritional information to make your diabetic meal planning easier.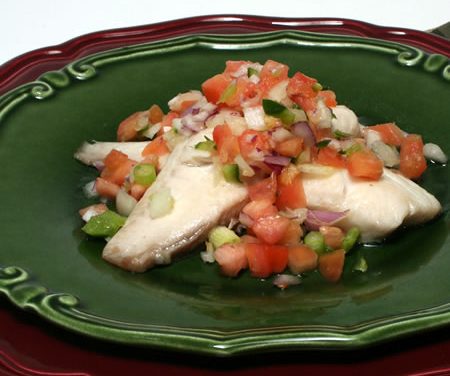 Recipe for Roasted Fish with Christmas Salsa from our Main Dishes recipe section.
Most Downloaded Recipes in this Collection
All Recipes from this Category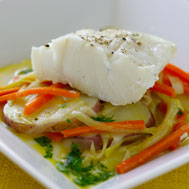 A simple, but elegant, weeknight meal. Serving size is 3 oz cod, 1-1/2 cup broth and vegetables. Recipe for Braised Cod With Leeks from our Main Dishes recipe section.