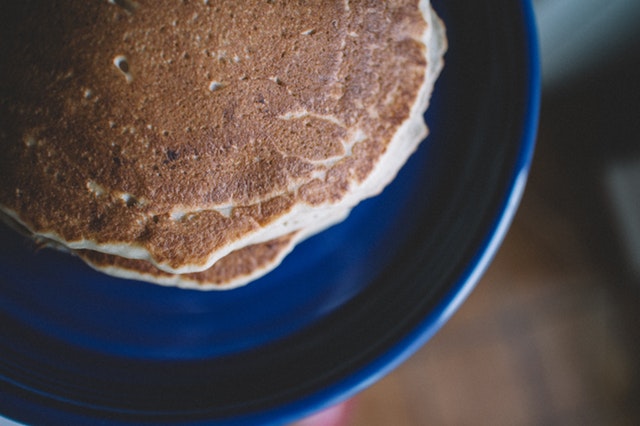 Ingredients

1 cup low-fat (1 percent fat) buttermilk
1/2 cup quick-cooking rolled oats
2/3 cup miller's bran (unprocessed, uncooked wheat bran)
1 large egg, or 1/4 cup egg substitute
1/4 cup whole wheat flour
2 teaspoons sugar
3/4 teaspoon baking soda
1/4 teaspoon salt

Directions

Combine the buttermilk, oats, and bran in a large bowl. Let stand 5 minutes. Add the egg and beat until blended.
In a small bowl, mix the whole wheat flour, sugar, baking soda, and salt until blended. Add to the bran mixture and blend until all the flour is moistened.
Prepare a hot skillet or griddle with non-stick pan spray. Pour in about 1/4 cup batter for each pancake. Cook about 3 minutes, or until bubbles form on the top and the edges are dry. Turn and cook the pancakes about 2 minutes more.

Recipe Yield: Yield: 8 pancakes (4 servings)
Nutritional Information Per Serving:
Calories: 136
Fat: 3 grams
Sodium: 462 milligrams
Cholesterol: 55 milligrams
Protein: 8 grams
Carbohydrates: 24 grams

Content Continues Below ⤵ ↷
Diabetic Exchanges
1-1/2 Starch, 1/2 Fat

Source: The New Family Cookbook for People with Diabetes
Book Title: The New Family Cookbook for People with Diabetes