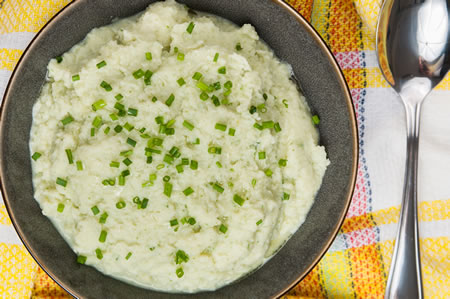 We've taken an all-American favorite comfort food – mashed potatoes – and replaced the potatoes with cauliflower. For comparison, a cup of home-prepared mashed potatoes, made with whole milk & butter, would provide approximately 237 calories, 9 grams fat, 699mg sodium, 35g carbohydrate, 3g sugars and 4g protein. This version has only 10g of carbs and 87 calories.

Recipe Yield: Makes 4 servings.
Ingredients
1 medium cauliflower
4 green onions, sliced, including half green stems
2-4 cloves garlic
1/4-1/2 cup unsweetened plain almond milk
4 tsp. extra virgin live oil, divided
Salt and freshly ground black pepper to taste
1 Tbsp. chopped chives


Directions
Content Continues Below ⤵ ↷
Place cauliflower, onions and garlic in steamer basket and steam for 10-12 minutes or until very tender.
Place cooked cauliflower, onions and garlic in blender or food processer.
Add 1/4 cup almond milk and 2 teaspoons olive oil. Blend until desired consistency.
For creamier consistency add more milk in 1 tablespoon increments.
Season to taste with salt and pepper.
Transfer to serving bowl.
Drizzle with remaining oil and garnish with chives. Serve.

Nutritional Information Per Serving:
Calories: 87
Fat: 5 grams
Saturated Fat: less than 1 grams
Fiber: 4 grams
Sodium: 61 milligrams
Protein: 3 grams
Carbohydrates: 10 grams