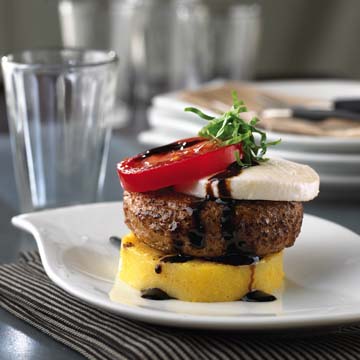 Ingredients

1-1/2 pounds 95% lean ground beef
2/3 cup balsamic vinegar
1 package (16 to 18 ounces) refrigerated prepared polenta, cut into 8 slices
2 tablespoons olive oil
Salt and pepper
1 package (8 ounces) fresh mozzarella cheese, cut into 8 slices
2 medium tomatoes, cut into 4 slices each
Thinly sliced fresh basil

Directions

Bring vinegar to a boil in 2-quart saucepan. Reduce heat; simmer, uncovered, 9 to 10 minutes or until reduced to 1/3 cup. Set aside.
Meanwhile lightly shape ground beef into eight 1/2-inch thick patties.
Brush polenta slices with oil. Place patties in center of grid over medium, ash-covered coals. Grill patties, uncovered, 11 to 12 minutes (over medium heat on preheated gas grill, covered, 9 to 10 minutes), until instant-read thermometer inserted horizontally into center registers 160F, turning burgers occasionally and basting with 2 tablespoons reduced vinegar after turning. Arrange polenta around patties; grill 11 to 12 minutes (for gas, grill 9 to 10 minutes) or until heated through, turning once. Season burgers with salt and pepper, as desired.
For each serving, layer 1 each polenta slice, burger, mozzarella slice and tomato slice. Drizzle with remaining vinegar and sprinkle with basil, as desired.

Note: Prepared balsamic syrup, available in large supermarkets and specialty food stores, may be substituted for balsamic reduction.
Notes:
Ditch the bun and have some fun with this Italian inspired recipe for Polenta Caprese Burgers.
Content Continues Below ⤵ ↷

Recipe Yield: Makes 8 servings
Nutritional Information Per Serving:
Calories: 271
Fat: 1 grams
Saturated Fat: 3 grams
Fiber: 2 grams
Sodium: 391 milligrams
Cholesterol: 57 milligrams
Protein: 28 grams
Carbohydrates: 17 grams


Source: TBC
Recipe and photo appears courtesy of Cattlemen's Beef Promotion Board.