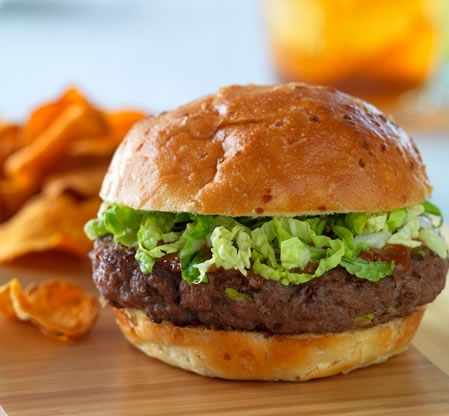 Ingredients

1 pound 96% lean Ground Beef
1 cup shredded Napa cabbage
2 tablespoons fresh lime juice, divided
1/2 cup chopped green onions
1 teaspoon ground ginger
1 teaspoon hot chili sauce
1 tablespoon creamy peanut butter
1 tablespoon hoisin sauce
1 teaspoon toasted sesame oil
Salt and pepper
4 whole wheat or white hamburger buns, split

Directions

Combine cabbage and 1 tablespoon lime juice in medium bowl; set aside.
Combine Ground Beef, green onion, ground ginger and hot sauce in medium bowl, mixing lightly but thoroughly. Lightly shape into four 1/2-inch thick patties.
Heat nonstick skillet over medium heat until hot. Place patties in skillet; cook 10 to 12 minutes until instant-read thermometer inserted horizontally into center registers 160F, turning occasionally. Season with salt and pepper, as desired.
Meanwhile, combine peanut butter, hoisin sauce, remaining 1 tablespoon lime juice and sesame oil in small bowl. Cover and refrigerate until ready to use.
Place 1 burger on bottom half of each bun; top evenly with peanut butter mixture and cabbage mixture. Close sandwiches.
Notes:
A unique hamburger topped with the flavors of Thailand, including peanut butter, lime juice and hoisin sauce.

Recipe Yield: Makes 4 servings
Content Continues Below ⤵ ↷
Nutritional Information Per Serving:
Calories: 273
Fat: 7 grams
Saturated Fat: 2 grams
Fiber: 4.5 grams
Sodium: 416 milligrams
Cholesterol: 65 milligrams
Protein: 27 grams
Carbohydrates: 27 grams


Source: TBC
Recipe and photo appears courtesy of Cattlemen's Beef Promotion Board.