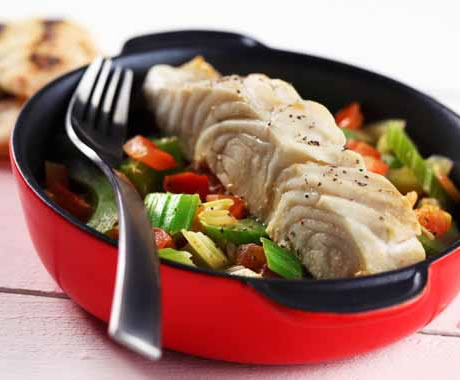 Ingredients

1 cinnamon stick
1 tsp coriander
1 tsp paprika
1 tsp ginger
1/8 tsp cayenne pepper
2 Tbsp canola oil
4-5 ribs celery, cut on the bias
1 large onion, diced
2 cloves garlic, minced
1/2 cup low-sodium chicken broth
4 Roma tomatoes, seeded and finely chopped
4 halibut fillets (6 oz)
4 pieces grilled flatbread

Directions

In large non-stick pan, add cinnamon stick, coriander, paprika, ginger and cayenne pepper. Toast over medium high heat until fragrant, about 30 seconds.
Add canola oil, celery and onion and cook 3-5 minutes until vegetables are softened. Stir in garlic. Add chicken broth and chopped tomatoes. Continue to cook uncovered about 8-10 minutes.
Push halibut fillets into sauce. Reduce heat, cover and simmer gently until fish is just cooked through, about 8 to 10 minutes. Serve with grilled flatbread.
Notes:
Halibut is often called the steak of the fish family due to its thickness and texture. See how this meaty, flaky white fish gets spiced up in sweet and savory ways.

Recipe Yield: Yield: 4 servings. Serving Size: 1 halibut fillet with 1 cup vegetables.
Content Continues Below ⤵ ↷
Nutritional Information Per Serving:
Calories: 320
Fat: 11 grams
Saturated Fat: 1 grams
Fiber: 4 grams
Sodium: 170 milligrams
Cholesterol: 55 milligrams
Protein: 38 grams
Carbohydrates: 14 grams


Source: CanolaInfo
Recipe and image appear courtesy of CanolaInfo.org.