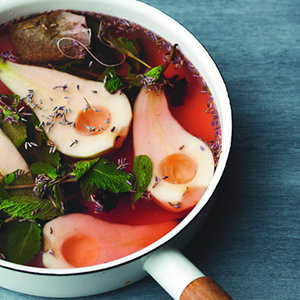 Ingredients

2 large ripe pears, such as Bosc or Anjou, slightly firm to the touch
3 tablespoons granulated stevia extract, or to taste
1 tablespoon dried lavender
2 blossoms dried hibiscus
1 chamomile tea bag
1/2 cup loosely packed fresh mint leaves

Directions

Peel, halve and core pears using a melon baller to scoop out seeds.
In large pot, combine 3 cups water, sweetener, lavender, hibiscus, chamomile tea and mint. Bring to a boil over medium-high heat, then reduce heat to medium-low. Add pears and simmer until you can easily pierce pears with the tip of a knife, about 20 minutes.
To serve, transfer pear halves to 4 individual bowls and ladle some of the cooking liquid over the top.

Recipe Yield: Makes 4 servings
Nutritional Information Per Serving:
Calories: 72
Sodium: 2 milligrams
Protein: 1 grams
Carbohydrates: 19 grams


Source: Pear Bureau