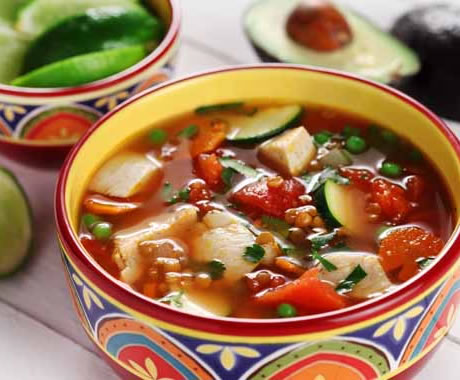 Ingredients

1 Tbsp canola oil
2 cloves garlic, minced
1 medium onion, sliced
4 celery stalks, sliced
1/8 tsp ground black pepper
2 tsp cumin
1 tsp red pepper flakes
8 cups low-sodium chicken stock
2/3 cup lentils
1 can (19 oz) tomatoes, chopped
3 medium carrots, thinly sliced
2 lbs cooked chicken, cubed
1 small zucchini, thinly sliced
1 cup frozen peas
1 small avocado, peeled and sliced

Directions

In Dutch oven, heat canola oil. Add garlic, onion and celery. Sauté until vegetables are tender. Season with black pepper, cumin and red pepper flakes.
Add chicken stock, lentils, tomatoes and carrots. Simmer, covered, 30 minutes, or until carrots are tender.
Add chicken, zucchini and peas.
Cover and simmer 10 to 15 minutes longer, or until vegetables are tender. Garnish with avocado slices.

Recipe Yield: Yield: 10 servings.Serving Size: 1-1/2 cups.
Nutritional Information Per Serving:
Calories: 250
Fat: 6 grams
Saturated Fat: 1.5 grams
Fiber: 5 grams
Sodium: 280 milligrams
Cholesterol: 75 milligrams
Protein: 33 grams
Carbohydrates: 14 grams


Source: CanolaInfo
Recipe and image appear courtesy of CanolaInfo.org.