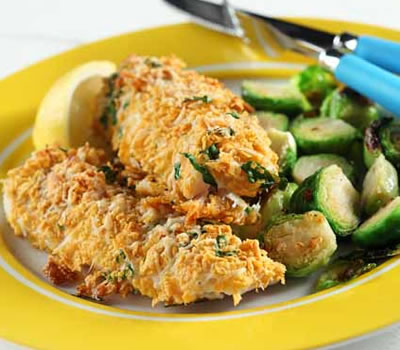 Ingredients
Halibut:

canola oil cooking spray
1/4 cup all-purpose gluten-free flour
2 egg whites
1 Tbsp fat-free milk
1 1/2 cup corn flakes, lightly crushed
1/4 fresh parsley, rinsed and chopped
1/4 tsp salt
1/4 tsp black pepper
1/4 tsp garlic powder
4 Pacific/Alaskan halibut fillets (4 oz/125 g each), rinsed and pat dry
1/4 cup grated Parmesan cheese
1 lemon, cut into wedges

Brussels Sprouts:

2 packages (10 oz/300g) Brussels sprouts, rinsed and sliced in half
1 Tbsp canola oil
1/8 tsp red pepper flakes
1/4 tsp garlic powder
1/8 tsp salt
1 tsp Parmesan cheese
Directions
Preheat oven to 425F (220C) and place oven rack in upper third of oven.
Coat baking sheet with canola oil cooking spray and set aside.
In shallow bowl, place flour. In another shallow bowl, combine egg whites and milk. In third shallow bowl, combine corn flakes and parsley. Sprinkle halibut with pinch of salt, pepper and garlic powder. Lightly dust each fish fillet with flour, dip in egg mixture, then coat with corn flake-parsley mixture. Place on baking sheet. Sprinkle each fillet with 1 Tbsp Parmesan cheese and bake for 15 to 17 minutes until fish is opaque and flakes when pulled apart with fork. Set aside and keep warm.
In large bowl, toss Brussels sprouts with 1 Tbsp canola oil, red pepper flakes, garlic powder, salt and Parmesan cheese. Transfer to baking sheet that has been coated with canola oil cooking spray and roast for 10 minutes until tender, turning every 2-3 minutes.
Serve alongside halibut with fresh lemon wedge.
Content Continues Below ⤵ ↷
Notes:
The crunchy Parmesan crust and spicy Brussels Sprouts make this a tasty, quick yet elegant meal.

Recipe Yield: 4 servings
Nutritional Information Per Serving:
Calories: 310
Fat: 9 grams
Saturated Fat: 2 grams
Fiber: 4 grams
Sodium: 540 milligrams
Cholesterol: 40 milligrams
Protein: 33 grams
Carbohydrates: 25 grams


Source: Recipe by Keri Glassman. Recipe and photo appear courtesy of Canola Info.