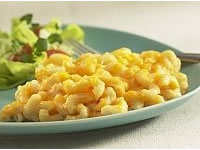 Ingredients
1 box Dreamfields Elbows
2 teaspoons olive oil
1 small onion, finely chopped
2 cloves garlic, minced
2 cups skim milk
1 package (8 ounces) light cream cheese (Neufchatel, 1/3 less fat), cut into 8 cubes
1 teaspoon each salt and pepper (optional)
8 ounces (2 cups) shredded 2% milk sharp Cheddar cheese, divided
4 tablespoons shredded Parmesan cheese, divided
Directions
Preheat oven to 375*F. Spray 2-1/2 quart casserole/baking dish with nonstick cooking spray. Cook pasta according to package directions; drain.
Meanwhile, heat oil in large nonstick skillet (or Dutch oven) over medium heat; sauté onion and garlic 3 minutes or until onion is tender, stirring frequently. Add milk and cream cheese to skillet; season with salt and pepper. Continue cooking until cream cheese has melted, stirring frequently; do not boil (cream cheese does not need to melt completely).
Toss pasta and sauce together. Stir in Cheddar cheese (reserve 2 tablespoons) and 2 tablespoons Parmesan cheese. Pour into baking dish. Sprinkle with reserved 2 tablespoons each Cheddar and Parmesan.
Bake uncovered at 375*F 20 to 25 minutes or until set. Let stand 5 minutes before serving.

Recipe Yield: Makes 8 main dish servings.
Nutritional Information Per Serving:
Calories: 357
Fat: 15 grams
Saturated Fat: 9 grams
Fiber: 4 grams
Sodium: 435 milligrams
Cholesterol: 44 milligrams
Protein: 20 grams
Carbohydrates: 34 grams


Source: Dreamfields