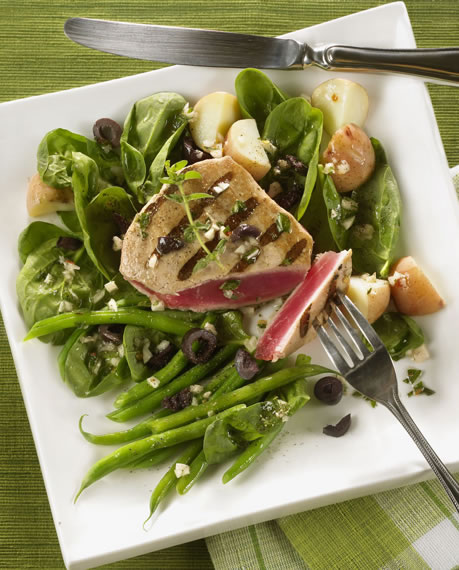 Ingredients

Salad Ingredients:

3/4 lb small red potatoes, diced (350 g)
1/2 lb green beans, trimmed (250 g)
4 tuna steaks ( 4 oz/125 g each, about 3/4-inch thick)
Canola oil cooking spray
4 cups (2 oz/57 g) baby spinach leaves (1 L)
16 pitted kalamata olives, coarsely chopped

Vinaigrette Ingredients:

2 Tbsp canola oil (30 mL)
2 Tbsp red wine vinegar (30 mL)
1 Tbsp water (15 mL)
1/8 tsp salt (.5 mL)
1/2 medium clove garlic, minced 1/2
1/8 tsp dried red pepper flakes (.5 mL)
1 Tbsp chopped fresh oregano leaves or 1 tsp (5 mL) dried oregano leaves (15 mL)

Directions

Steam potatoes and green beans 6 minutes or just until tender. Drain and rinse with cold water, shaking off excess liquid.
While vegetables cook, combine vinaigrette ingredients in a small jar, secure with lid, and shake well to blend completely. Set aside 1/4 cup (60 ml) vinaigrette and brush remaining vinaigrette (1 Tbsp/15 mL) over fish.
Coat a grill pan with canola oil cooking spray and heat over medium-high heat until hot. Grill tuna over high heat 3 minutes on each side or until medium-rare or desired degree of doneness. (Do not overcook or fish will be tough.)
Divide greens equally on four serving plates. Arrange potatoes, green beans, and olives over greens. Drizzle 1 Tbsp (15 mL) vinaigrette evenly over each salad and top with tuna.
Content Continues Below ⤵ ↷
Notes:
This light dish is a great choice for lunch or al fresco dinner.

Recipe Yield: Yield: 4 servings. Serving size: 1-1/2 cups (375 mL) and 1 tuna steak.
Nutritional Information Per Serving:
Calories: 345
Fat: 14 grams
Saturated Fat: 2 grams
Fiber: 5 grams
Sodium: 280 milligrams
Cholesterol: 40 milligrams
Protein: 29 grams
Carbohydrates: 26 grams


Source: The Heart-Smart Diabetes Kitchen: Fresh, Fast and Flavorful Recipes Made with Canola Oil