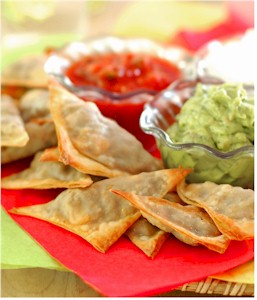 Ingredients

1/2 pound Laura's 92% Lean Ground Beef or 96% Lean Ground Round
1/4 cup finely chopped onion
1/4 teaspoon Cajun seasoning
1/4 teaspoon kosher salt
1/4 teaspoon ground black pepper
1/4 cup canned low-salt yellow corn, drained
1/3 cup salsa
1 tablespoon tomato paste
20 wonton wrappers
Cooking spray
Salsa, low-fat sour cream (optional)

Directions

Preheat oven to 400F.
Cook ground beef, onion and next 3 ingredients in a large nonstick skillet 5 minutes or until beef is browned; drain. Add corn and next 2 ingredients and cook until heated through. Remove and let cool.
Working with one wonton wrapper at a time, spoon 1 tablespoon beef mixture into center of each wrapper. Bring 2 opposite corners together and pinch the points to seal, forming a triangle. Place wrappers on a wire rack and repeat procedure with remaining wrappers and beef mixture.
Place empanadas on lightly greased baking sheets and coat lightly with cooking spray. Bake 4 to 6 minutes on each side, turning once or until golden. Serve with salsa and sour cream, if desired.

Recipe Yield: Yield: Makes 20 servings.
Nutritional Information Per Serving:
Calories: 85
Fat: 1.5 grams
Saturated Fat: .68 grams
Fiber: .62 grams
Sodium: 157 milligrams
Cholesterol: 10 milligrams
Protein: 5 grams
Carbohydrates: 9 grams


Source: Lauras Lean Beef