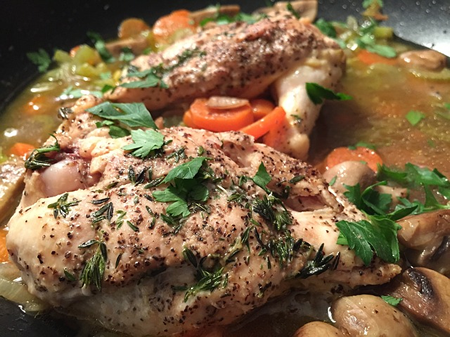 Ingredients

2 medium carrots, sliced
2 medium onions, sliced
2 celery ribs, cut in 1-inch pieces
3 pounds chicken, whole or cut up, skin removed
3/4 teaspoon salt
1/2 teaspoon dried coarse black pepper
1 teaspoon dried basil
1/2 cup water, chicken broth, or white cooking wine

Directions

Place vegetables in bottom of slow cooker. Place chicken on top of vegetables. Add seasonings and water.
Cover. Cook on LOW 8-10 hours, or HIGH 3-1/2 hours (use 1 cup liquid if cooking on HIGH).
This is a great foundation for soups - chicken vegetable, chicken noodle, chicken rice, chicken corn, and other favorites.

Recipe Yield: Yield: 6 servings
Nutritional Information Per Serving:
Calories: 172
Fat: 5 grams
Fiber: 2 grams
Sodium: 381 milligrams
Cholesterol: 65 milligrams
Protein: 22 grams
Carbohydrates: 8 grams
Sugars: 4 grams

Content Continues Below ⤵ ↷
Diabetic Exchanges
1 Vegetable, 3 Lean Meat

Source: Fix-It and Forget-It Diabetic Cookbook
Book Title: Fix-It and Forget-It Diabetic Cookbook