Slow Cooker Recipes
Home / Diabetic Recipe Archive
Slow Cooker Recipes
Slow cookers, also known as Crock-Pots, have been a big hit since the 1970's. It is a countertop appliance that is used to simmer food at a reduced temperature for a longer period of time. Many people think of dishes like pot roast, pulled pork or soup when it comes to a slow cooker, but you can use it for much more – including cake! One note of caution: raw kidney beans and a few other beans (like broad beans or fava beans) contain the phytohemagglutinin toxin. Boiling destroys this toxin, but the far lower temperature of a slow cooker does not (read more at WikiPedia).
Slow Cooker Recipes
Latest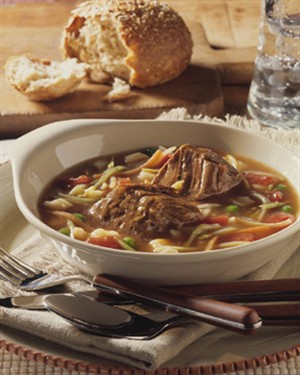 Recipe for Slow Cooker Pot Roast Soup from our Slow Cooker recipe section.
Most Downloaded Recipes in this Collection
All Recipes from this Category

Recipe for Greek Chicken from our Main Course recipe section.