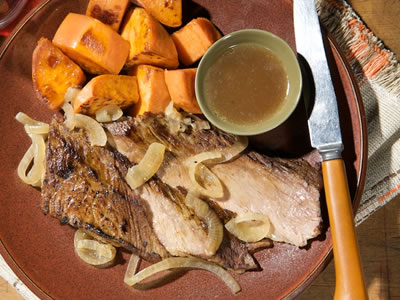 Ingredients

1 boneless beef brisket, flat cut (4 to 4-1/2 pounds)
1 tablespoon vegetable oil
2 medium onions, thinly sliced
3/4 cup beef broth
2 cloves garlic, crushed
1 to 2 tablespoons prepared horseradish

Directions

Heat oil over medium heat in stockpot until hot. Place brisket in stockpot; brown evenly. Remove brisket.
Add onions to same pan. Cook and stir 3 minutes or until crisp-tender. Pour off drippings. Return brisket, fat side up, to stockpot. Add beef broth and garlic; bring to a boil. Reduce heat to low; cover tightly and simmer 3 to 3-1/2 hours or until brisket is fork-tender.
Remove brisket; keep warm. Skim fat from cooking liquid. Bring cooking liquid to a boil. Cook, uncovered, 5 minutes or until reduced by half; stir in horseradish.
Carve brisket diagonally across the grain into thin slices. Serve with horseradish sauce.

Recipe Yield: Makes 10 to 12 servings
Nutritional Information Per Serving:
Calories: 373
Fat: 13 grams
Saturated Fat: 4 grams
Fiber: 0.7 grams
Sodium: 213 milligrams
Cholesterol: 99 milligrams
Protein: 57 grams
Carbohydrates: 4 grams


Source: TBC
Recipe and photo appears courtesy of Cattlemen's Beef Promotion Board.