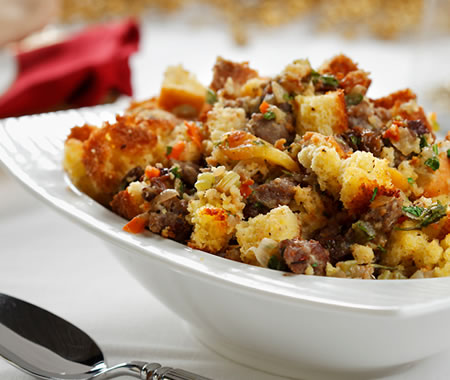 Ingredients

4 cups cornbread cubes, dried (1 L)
4 oz lean Italian turkey sausage, casing removed (125 g)
1 Tbsp canola oil (15 mL)
1 cup chopped yellow or white onions (250 mL)
1/4 cup chopped celery (60 mL)
1/4 cup chopped carrot (60 mL)
1 small garlic clove, crushed
4 each dried apricots and pitted dried plums, coarsely chopped
1/2 tsp dried thyme (2 mL)
3/4 tsp dried sage (4 mL)
1/4 tsp dried marjoram (1 mL)
1 cup fat-free, low-sodium chicken broth (250 mL)
1/4 cup minced fresh parsley (60 mL)
1/2 tsp salt (2 mL)
1/4 tsp ground black pepper (1 mL)
Canola oil cooking spray
1 egg, lightly beaten

Directions

Preheat oven to 350F (175C). Place cornbread cubes in large bowl and set aside.
In small nonstick skillet, cook sausage over medium to high heat, crumbling and stirring until brown and cooked through. Drain well and set aside.
In large nonstick skillet, heat canola oil over medium heat. Stir in onions, celery and carrot; cook 5 minutes, stirring frequently. Add garlic and cook for 1 minute longer, but don't allow garlic to brown. Stir in sausage, apricots, plums, thyme, sage, marjoram and 1/4 cup (60 mL) broth. Bring to a boil. Reduce heat and simmer 3 minutes. Remove from heat; pour vegetable mixture over cornbread. Add parsley and stir well. Season with salt and pepper. (Dressing may be prepared to this stage a day ahead and refrigerated, covered.)
Whisk together egg and remaining 3/4 cup (175 mL) broth and pour over cornbread mixture, tossing well. Spray 2-quart (2.25 L) baking dish with canola oil cooking spray (use larger baking dish if not reserving dressing for Turkey Roulade) and transfer all but 1 1/2 cups (375 mL) of dressing to baking dish. Cover dish with foil and set aside.
After Turkey Roulade has been in oven 30 minutes, place covered baking dish of dressing in oven. After 15 minutes (or when internal temperature of roulade, measured with instant-read thermometer, is 155F), remove roulade from oven and remove foil from baking dish with dressing. Continue baking dressing for about 15 minutes or until top begins to brown.
Notes:
This colourful dressing has layers of flavour that allow for a delicious side dish on its own as well as blend well in the Turkey Roulade entree. Yield: 6 cups (1.5 L); enough for Turkey Roulade and 8 side dish servings. Serving size: 1/2 cup (125 mL).

Recipe Yield: Yield: 6 cups
Content Continues Below ⤵ ↷
Nutritional Information Per Serving:
Calories: 100
Fat: 3.5 grams
Saturated Fat: 1 grams
Fiber: 1 grams
Sodium: 310 milligrams
Cholesterol: 30 milligrams
Protein: 3 grams
Carbohydrates: 12 grams


Source: Cheryl Forberg, R.D.