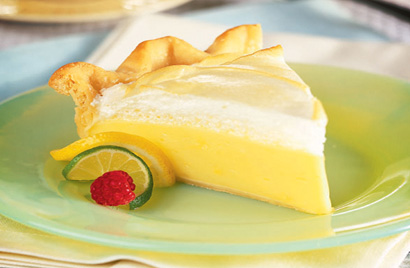 Ingredients

For Pie Filling:

Pastry for single-crust 9-inch pie
2-1/4 cups water
1/2 cup fresh lemon juice or frozen lemon juice concentrate*
1/2 cup cornstarch
2 eggs
2 egg whites
1-1/2 teaspoons grated lemon peel
1-1/2 cups Equal Spoonful or Granulated**
2 tablespoons stick butter or margarine
1 to 2 drops yellow food coloring (optional)

For Meringue:

3 egg whites
1/4 teaspoon cream tartar
2/3 cup Equal Spoonful or Granulated***

* Such as Minute Maid Premium Lemon juice (frozen) 100% Pure Lemon Juice from Concentrate

** May substitute 36 packets Equal sweetener

Content Continues Below ⤵ ↷

Directions

For Pie Filling, roll pastry on floured surface into circle 1 inch larger than inverted 9-inch pie plate. Ease pastry into plate; trim and flute edge. Pierce bottom and side of pastry with fork. Bake in preheated 425F oven 10 to 12 minutes or until pastry is golden. Cool on wire rack.
Combine water, lemon juice and cornstarch in medium saucepan. Bring to a boil over medium-high heat, stirring constantly. Boil and stir 1 minute. Beat eggs, 2 egg whites and lemon peel in medium bowl. Mix in 1-1/2 cups Equal. Stir about half of hot cornstarch mixture into egg mixture.
Return all to saucepan. Cook and stir over low heat 1 minute. Remove from heat. Stir in butter until melted. Stir in food coloring, if desired. Pour mixture over baked pie shell.
For Meringue, beat 3 egg whites in mixing bowl on medium speed of mixer until foamy. Add cream of tartar. Beat to soft peaks. Gradually beat in 2/3 cup Equal, beating to stiff peaks. Spread meringue over hot lemon filling, carefully sealing to edge of crust to prevent shrinking or weeping.
Bake pie in 425F oven about 5 minutes or until meringue is lightly browned.
Cool completely on wire rack. Cut pie into wedges.

Recipe Yield: Serves: 8
Nutritional Information Per Serving:
Calories: 178
Fat: 9 grams
Sodium: 133 milligrams
Cholesterol: 65 milligrams
Protein: 5 grams
Carbohydrates: 20 grams

Diabetic Exchanges
1 starch, 2 fat

Source: Equal
Recipe and image appear courtesy of Equal.